Following on from my recent summer skincare for men vlog, I was offered the chance to review a few other products designed for use at this time of year. I couldn't resist doing a vlog of this latest haul.
The first item I reviewed was Gillette Instant Hydration Moisturiser. I usually stick to lesser known brands that rely more heavily on natural ingredients. Even so, this was a great product that left my skin feeling good for hours. I was very pleasantly surprised.
The next couple of items were entirely new to me and took me to destinations I'd never vsited before. The first was Incognito moisturiser. More of a unisex than a men's product, this moisturiser contains citronella to repel insects. It's also an all-over moisturiser, not one you simply use on the face.
At first this had me flummoxed because of the odour. Who would go out smelling of citronella? As I thought about it, I realised there is a place in the market for something like this. If you're camping or going on a walking or cycling holiday, Incognito could be ideal. As it leaves you smelling of citronella, however, I would advise using something else if going out on a date or some other social occasion. It should also be noted this is a basic insect repellent. If going somehwere like the rainforest you'd need to suplement with other items to provide greater protection.
Next up was No7 Energising Gradual Tan Moisturiser. As a moisturiser, I found this perfectly pleasant to use. It also contains SPF15 so protects you from the sun's harmful rays.
I have never and will probably never use a tanning product again. I merely did it for this review. That said, after three days of use, it didn't produce any noticeable tan. It may just be that it didn't suit my skin. In summary; as a moisturiser it was great, but as a tanning product, it didn't really do things for me.
Finally, I looked at the Baxter of California travel kit and dopp bag, available from Fat Buddha Store. This includes six products; a preppy toiletry bag (the dopp bag), a shave formula, protein shampoo, face wash, oil-free moisturiser and after shave balm.
All products came in 60ml containers so are airline-safety compliant. Most feature tea tree oil so come with a distinctive odour although not one that lingers. I was particularly impressed by the moisturiser and the protein shampoo, although all products were very pleasant to use. I think this would make a great gift.
I hope you will watch the vlog. Please do leave a comment below or on the video and tell me what you think.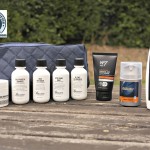 Interested in this blog post? Well have a read of these...