I recently wrote on my Facebook page that photography is: "50% resourcefulness, 45% patience and 5% skill." This photograph as the sun set over the Weald of Kent definitely proves the patience part!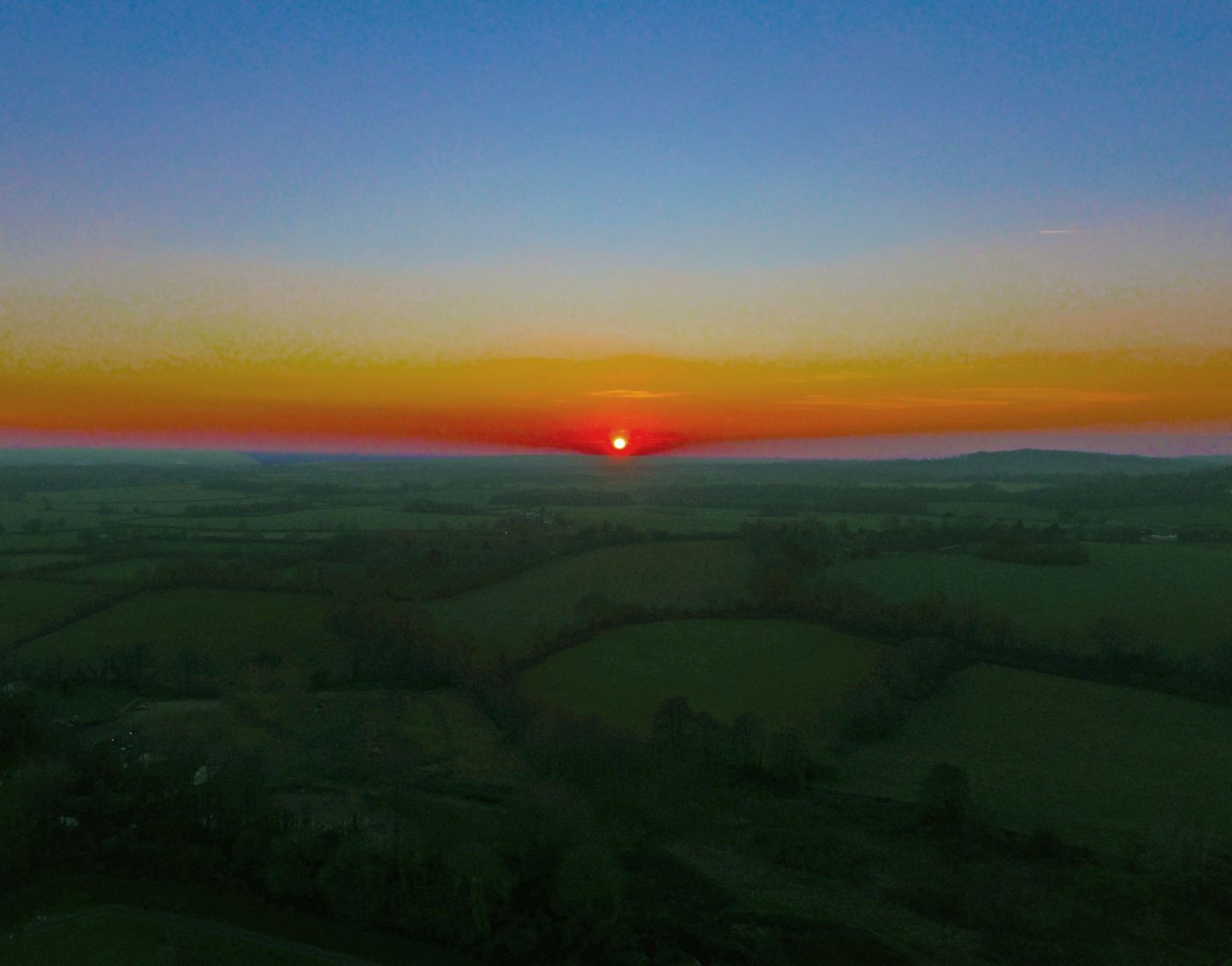 I spent weeks waiting for the correct conditions to take this shot. It was taken using my DJI Phantom drone and every day at sunset when I wanted to take a sunset image, I was either dealing one of my daughters' after school activities or it was very overcast and you couldn't see the sun.
A few days ago, I got my break. Mrs Adams and I were in a pub having a drink with a friend while our kids played outside.
I had purposefully taken my drone with me because the weather conditions were perfect. I knew we were going to be there at the moment the sun set and there was plenty of public land outside to fly the drone safely and legally.
A couple of minutes before sunset, I made my excuses and joined the kids outside while I sent my drone up in to the sky. The image was taken from a height of about 100 metres.
While editing, I have removed some of the shadowing and increased the vibrancy and saturation of the sky. I have also increased the level of green colours slightly in the bottom half of the picture.
Personally, I think it is a very eye catching picture, but as I use my drone more, I am learning what makes a good drone picture. I was hoping the setting sun would be the stand out feature of the shot (see this example of a sunset picture which I shot with my DSLR camera). You may have a different opinion, but I think it's the wonderful colours in the sky that really catch the eye.
What I'm learning is that if you're using a drone, you either need a fantastic landscape or an amazing focal point to focus on. I think this image works, but I think it's because of the contrast between the sky and land. From that height, I had assumed the sun would appear much larger than it did but it's actually quite small.
Tell me what you think. Is it the sun that catches your eyes or the colours? if you have any advice for photographs using a drone, do let me know as I feel I have more to learn. You can either leave a comment below or you will find me on most social media channels at @dadbloguk.
Interested in this blog post? Well have a read of these...