This was a photograph that simply had to be taken. I just love the contrast of the green and browns of the landscape and the rainbow colours in the centre of the image.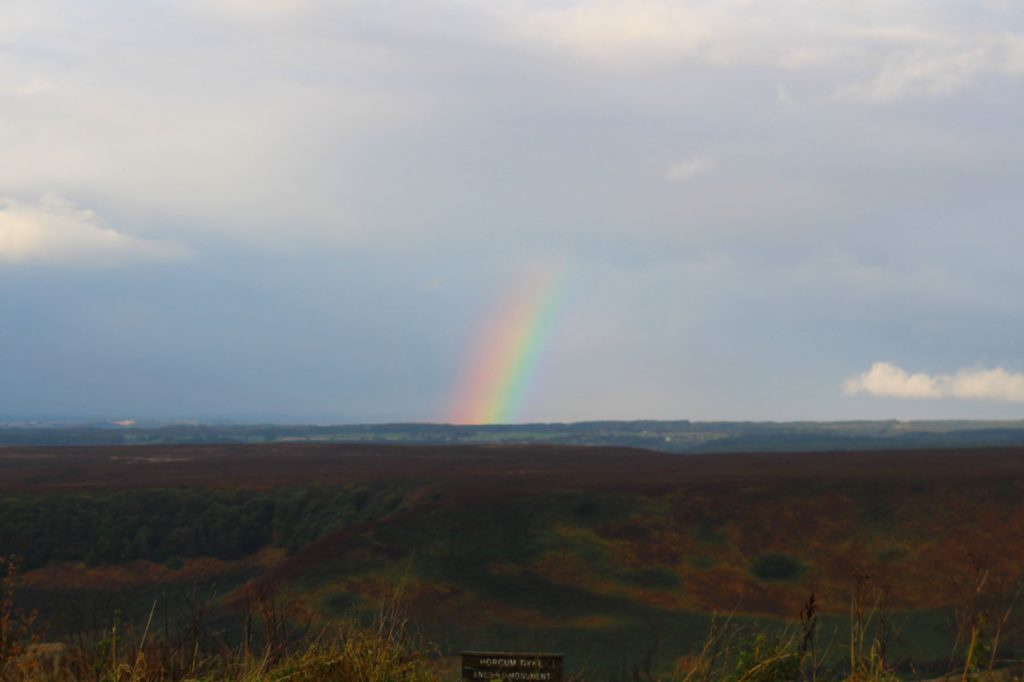 The picture was taken on the North Yorkshire Moors at a beautiful spot with a dreadfully unfortunate name: The Hole of Horcum (fact: it's ranked 11th on the Rude Britain list, a list of places with inappropriate names). We were parked up in a lay by where there was glorious sunlight but off in the distance it was raining and this was the result.
For me, this was a slightly bizarre trip down memory lane. I was up in North Yorkshire off-roading to celebrate the 75th anniversary of the car manufacturer Jeep, and I shall be blogging about my experiences next week. Going back almost 20 years, however, I was the local newspaper reporter for this very area.
One of the most notable news stories  I reported on during that time was a road traffic accident at this spot. It involved a lorry driver who drove over the edge of the Hole of Horcum. You can't appreciate it from my photograph, but it's a drop of 120 metres to the very bottom.
On the way down, his lorry flattened a large tree and came to rest on the trunk, pinning it in place on the ground. The driver had been flung from the cab of the vehicle and came to rest in the root ball of the tree. Before the emergency services could rescue the driver, they had to pin the tree in place because they were worried the lorry could slip, thereby catapulting the tree back into place and crushing the driver in the root ball.
It was a massive rescue effort in a remote location. Even so it was a success and the last I saw of the lorry driver, all those many years ago, he was making a very good recovery. You can read a news report of the event here. It's possible I wrote that very article but it was such a long time ago I can't remember.
Enough of my reminiscing. I've linked the image to the #MySundayPhoto linky hosted by the marvellous Photalife blog. Please click on the badge to visit the linky and rest assured, anyone else who takes part is unlikely to bore you with stories from their youth!
Interested in this blog post? Well have a read of these...