Another week has gone by where I have found myself either looking after the children, blogging or trying to progress our house purchase. In reality, I have, more often than not, been doing all three at the same time leaving me little time to indulge in photographic hobby.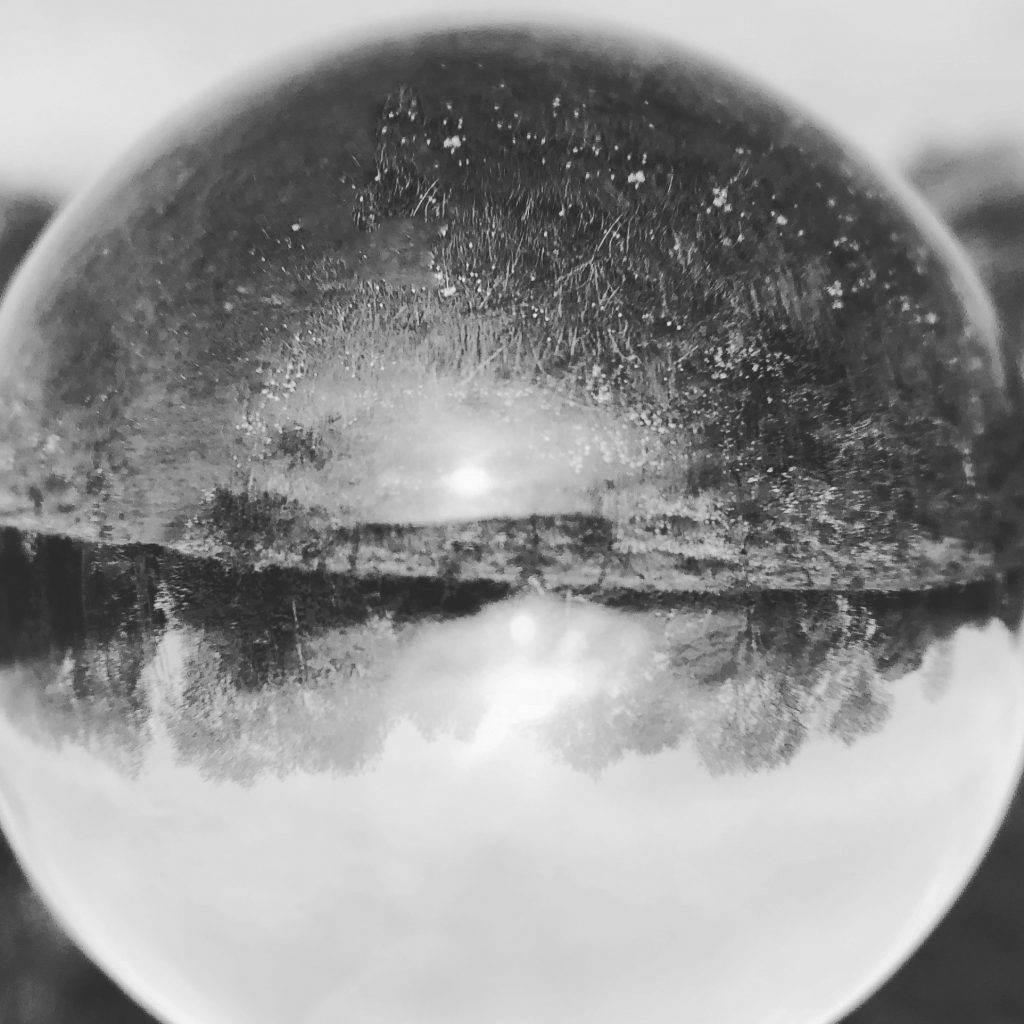 Waking up particularly early one promising morning, I saw an opportunity to get out with my camera. I left the family sleeping and dashed out of the house in a bid to get photographs as the sun rose.
My aim was to go out with my lensball and get some images as the sun appeared over the horizon. It turned out to be an awesome time for some wildlife spotting in addition to photography as both a woodpecker and a deer crossed my path.
I eventually got myself in position and rattled off lots of pictures with the lensball using different settings and lenses. The results were okay, but I thought I'd try one with my mobile phone and that's the image presented here.
I can't deny it, I am much happier taking photographs with a DSLR camera. Every now and again, however, mobile phone pictures produce far superior results and this was one of those occasions.
The original was in colour but I feel this black and white version is much more striking. I've seen lots of people using lensballs and producing very colourful pictures so I thought it would be interesting to do the reverse and I think there's something captivating about it. A black and white sun rise is a bit of a novelty, I'm sure you'll agree!
Do you have a lensball? Have you been taken in by the lensball craze on Instagram? If you have any hints or tips for using one, please do let me know either on social media or in a comment below. They aren't always the easiest to use so I'd be keen to hear how other people use them.
I will be adding this picture to the #MySundayPhoto photographic linky hosted by Darren Coleshill who writes the Photalife blog. Last week I spent a little time with Darren in Brighton as he very kindly took some photographs of me on the seafront to promote the Dadbloguk range of t-shirts that's now available from Grahpic Gear.
If you would like to see what we got up to, follow this link. Alternatively, if you'd like to visit the #MySundayPhoto linky, simply click on the badge below.
Interested in this blog post? Well have a read of these...