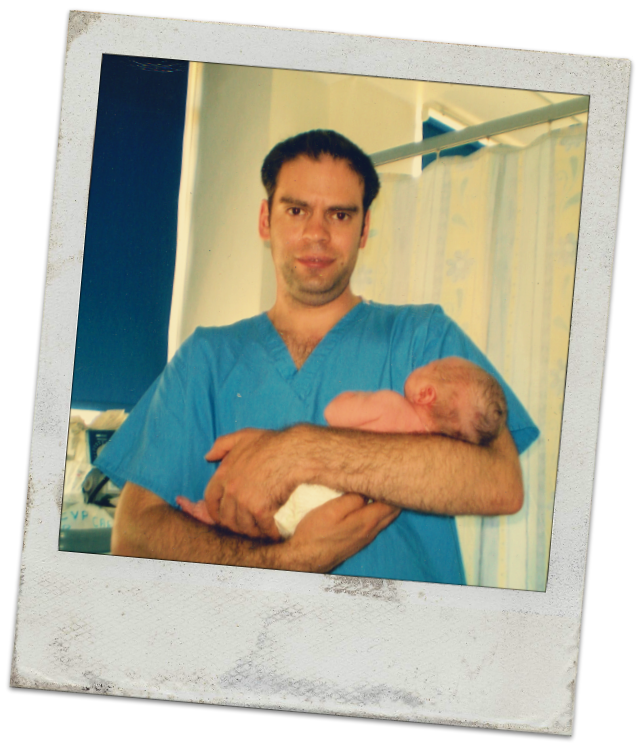 This photograph is very significant to me. It's the first image of me as a dad and was taken minutes after Helen was born. Note the surgical scrubs. It wasn't the easiest birth and she came into this world in theatre.
While the moment is obviously very significant to me, on this occasion it's the fact the image even exists that is most important. Over the past couple of years I've been troubled that we seemed to possess very few pictures of Helen in her earliest days. Apart from a handful of framed pictures, we had nothing. There weren't even any images stored on memory cards, data sticks, phones or negatives (remember them?).
I knew other images existed and had searched all over the place for them on more than one occasion. I most recently went hunting for this particular shot when I wanted to use it with this blog post the other week. There were other missing images I wanted to get my hands on, including the first ever picture of mum and baby. We had a great record of her younger sister's first days, but zero for our eldest child and I was very puzzled by this.
Until, that is, I hired a skip and went on a mission to de-clutter the house. While clearing out the garage I found loads of pictures in two boxes that had been put to one side several years ago and ignored ever since. Among them was the image above, plus the first mum and baby shot, baby scan pictures etc. It was a real treasure trove.
We moved house twice in quick succession after Helen was born and soon afterwards Elizabeth came along. It was a manic time and all manner of items were misplaced. I feel dreadful that such significant images were among the lost items. I apologise if using this mage seems self-indulgent but I am so, so happy to be reunited with it and the other pictures in our rediscovered collection and want to tell the world.
I'm linking this to the #MySundayPhoto linky that's hosted by the Onedad3girls blog. It's well worth a visit so please do click on the link below.
Interested in this blog post? Well have a read of these...