A little while ago I received a phone call from a journalist. In a cheery voice, she explained she was doing some research for a news story about stepfamilies. A survey was about to be published showing the majority of respondents thought the phrase "step" was outdated when referring to step relatives and stepfamilies. She asked what I thought of this. When I explained I was "appalled" at the suggestion she was genuinely shocked and the cheery voice melted away to be replaced by a more formal tone.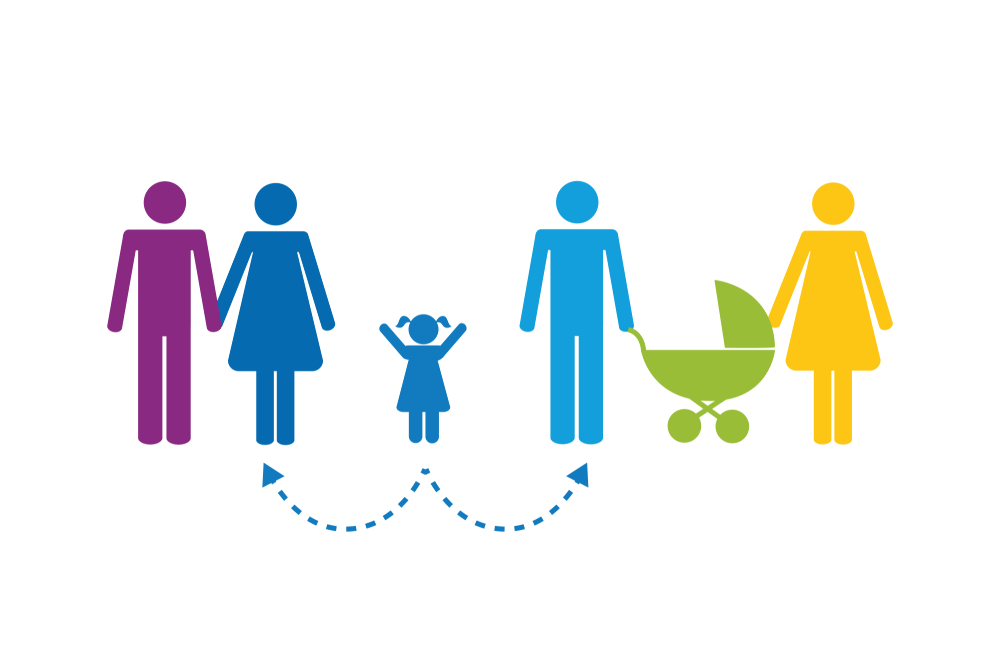 I went on to explain that to a stepchild such as myself, this was a matter of identity. Some people would have excellent relationships with their stepparents and be quite happy not to use the term "step." For a variety of complicated reasons, many would not feel comfortable banishing it from the language. Regardless of how anyone felt, I was strongly of the opinion that's it's simply unacceptable to be telling stepchildren or stepparents how to describe themselves or make them feel bad for using the word "step."
It never ceases to amaze me how little understanding there is of stepfamilies and step relatives. The conversation I mention above is just one example of how misunderstood stepfamilies can be. This is surprising as 42% of marriages end in divorce so there must be a lot of us steplings out there (yes, I did just make up the phrase stepling, although maybe blendie is equally appropriate?).
The other issue I have noticed is that public discussion of stepfamilies is almost entirely driven by stepparents. Us stepchildren are a quiet bunch, sometimes bruised by the experiences life has thrown at us. Many of us have experienced loss and significant disruption to family life at a young age and we're not always encouraged to speak about this. It's rare for someone to speak up about life as a stepling and when it happens, the focus is almost entirely on young stepchildren or settling children into a newly blended family.
Not only are us stepchildren widely ignored, but we seem to have a bit of an image problem. I appreciate this is very unscientific, but take a look at the graphic below. This is what Google suggested when I did a search for "famous stepchildren." How does that list make you feel?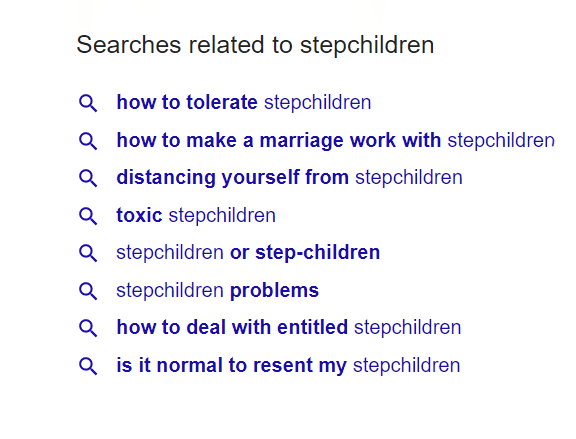 Insensitive Comments: The Greatest Hits
Having been mulling it over for a while, I've put together four of the most common and insensitive comments that I've heard over the years. I've also provided an explanation as to why these phrases bother me so much and are best avoided. I must make clear these are all comments that have been made by people from outside of my family unit. These are not phrases that stepparents should avoid, you'll find plenty of those lists elsewhere on the internet.
Before I launch into this, a word of caution. To state the obvious, every single family, be they step, blended or otherwise, is different and every individual is unique. Some stepchildren and stepparents don't like using the phrase step or blended. Others will insist upon it. My advice is to proceed with caution and to be sensitive.
You can't be a stepchild, you're over 18
Okay, I've paraphrased something that was said to me during an incredibly complex conversation. Nonetheless, this has to be one of the daftest suggestions I have ever heard.
Being a stepchild (or a stepmum or stepdad) is a major commitment. The relationship doesn't end simply because a youngster hits the age of 18.
In fact, there are certain milestones you reach as an adult where your status as a stepchild becomes highly relevant and can become emotionally charged. Should a stepchild choose to get married, careful consideration often has to be given to invites, speeches and seating plans. The arrival of a child can also be a pinch point.
Natural children don't stop being children when they become adults. The same applies to stepchildren.
Call them your family, not your stepfamily
Let's tackle the results of the survey my journalist friend was talking about. If ever there was a way to demonstrate a complete lack of awareness of the stepfamily dynamic, it's to suggest someone should not use the phrase "step." A majority of the survey respondents may have said they felt it was outdated and I have no doubt they answered this with the best of intentions, but to suggest such a thing is dreadfully misguided.
It is a very personal matter. It's up to the individual and the circumstances the individual finds themselves in as to whether they identify as a stepchild or stepparent. It may have little consequence at the dining table on Christmas day, but it can, quite rightly, have huge significance on the hospital ward, the school or in the courtroom and other official channels.
The key point, however, is that by saying the word should not be used, you make it dirty. It's a statement of fact that I am a stepchild. I have been one since I was a very young boy and I shouldn't be put under any pressure to deny it.
There are times when it is useful, necessary even, to identify as a stepchild. If there has been a remarriage, stepchildren are likely to have a different surname to the other members of their family unit. That's very difficult to explain without telling people your exact status within a family.
Prince William, The Artist Formerly Known as Prince Harry and Barack Obama are well known stepchildren who don't hide the fact. If you have an issue with use of the term 'step' and you think it is an outdated term, I suggest you think again.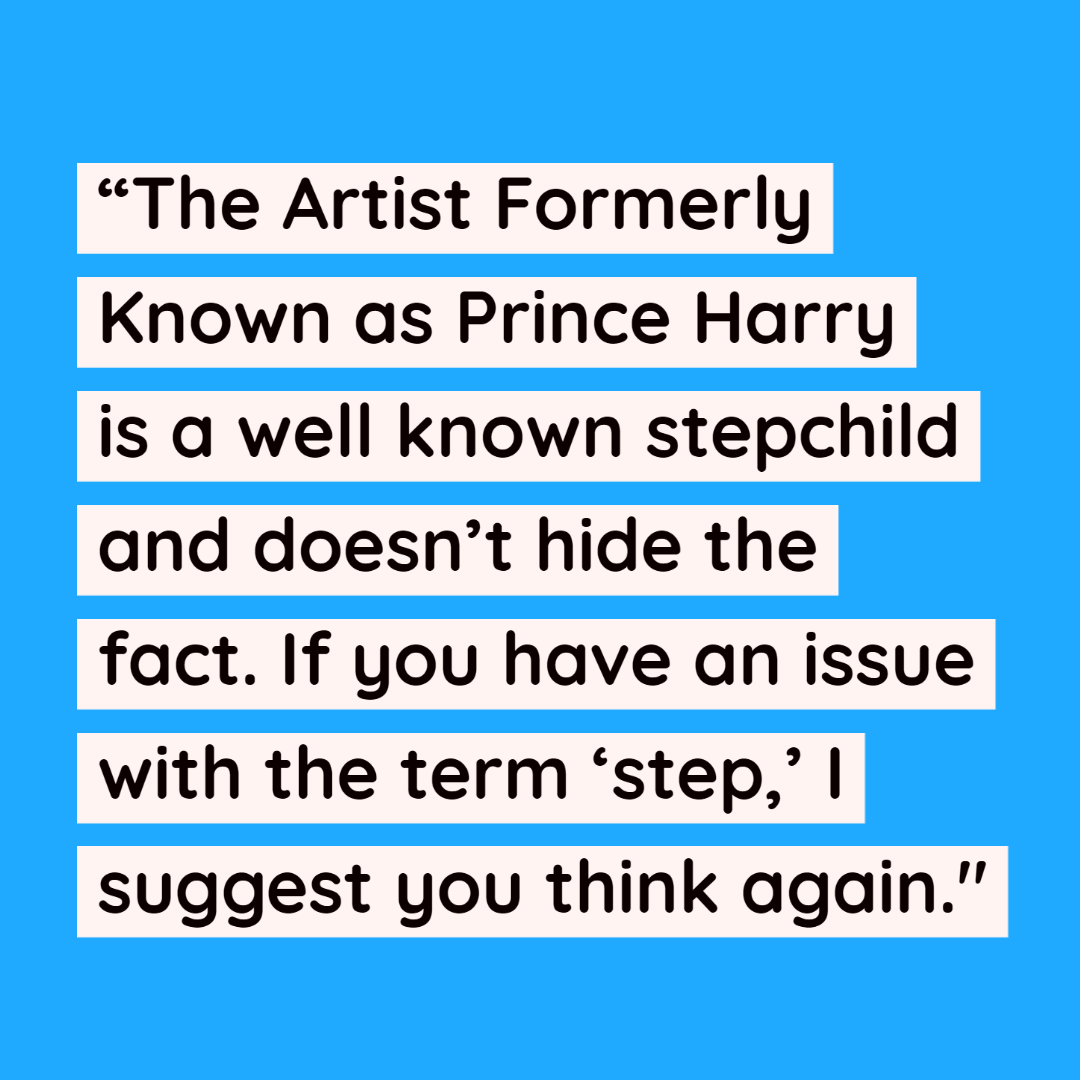 Don't call them your stepmum/dad, call them your mum/dad
This follows on nicely from the above example. It is just that bit more specific.
This has come up in conversation a few different ways but here's the bluntest and rudest way it was raised with me. When I was about 15, a complete stranger told me I should refer to my stepfather as my father. He went on to explain that referring to my stepfather as a stepfather suggested there were problems in the family.
As I say, this weird and ridiculous incident happened many years ago. It was a very odd thing for this man to say and to this day I find myself wondering what the guy's problem was. His words caused me great offence because he was tramping all over highly personal territory. You simply don't tell anyone how to refer to family members.
I shall also demonstrate my point with a hypothetical scenario. Let's say a divorced man in his sixties with three adult children marries a 25-year-old Ecuadorean lingerie model. Would you really expect the children from his first marriage to call their dad's new wife "mum." Would you really question his children if they chose to refer to their dad and new wife as their "stepfamily"?
Yes, okay, that example was totally facetious. Nonetheless, divorce and remarriage can happen in circumstances that strain family relations.
I can think of real examples where divorced parents with adult children have made the most bizarre marriage choices later in life. I'm talking about the kind of scenarios where people marry partners younger than their own children or marry following whirlwind romances that go awry or where the marriage means an inheritance promised to natural children gets diverted to stepfamily members.
Telling people how to refer to their step relatives is a minefield. It's best avoided.
But she is still your mum / still your dad
Commenting on a stepchild's natural parents can be as fraught as commenting on their step relatives. If you don't know the family history in detail, leave well alone.
I'll give you a further hypothetical scenario (although it's one that's not unheard of). Let's assume a woman deserts her family to live with another man (…or woman). She chooses to cut all ties with her children or maybe she turns up in their life every three or four years with an armful of expensive gifts before disappearing off again a day or two later.
In these circumstances, the stepparent has probably got a considerably more positive and productive relationship with the child. Regardless of their age, the child will probably be very conflicted and won't need reminding their natural, aloof parent is "still their mum." They may simply wish to have a more distanced relationship with them.
I've heard this phrase used a few times. It's telling that I've only ever heard it used by people who have no experience of stepfamily life.
I can't, however, mention this example without highlighting the plight of children who are victims of parental alienation. That's a despicable thing for any child or parent to experience and such circumstances need handling with incredible care.
Getting it right is not that difficult
Stepchildren don't need telling how to refer to their relatives or their families. It's between them and their closest relatives and step relatives.
It's deeply personal. All that's needed is a little sensitivity and understanding. I think most people are okay with the former, but many fail when it comes to understanding the complex world stepchildren often live in. I think people forget that stepchildren grow up and those complexities carry on into adulthood.
If someone wants to refer to themselves as a stepchild or stepmum, stepdad or refer to their family as a step or blended family it's up to them. No one else should be telling them what language to use.
Oh, one final word. That survey? The results were never published in the end. I think someone saw the error in their ways and realised they were about to make a massive mistake.