Yesterday I took my two daughters on an impromptu woodland adventure. Pictured below is Izzy, my youngest child, making the most of a tree stump we came across.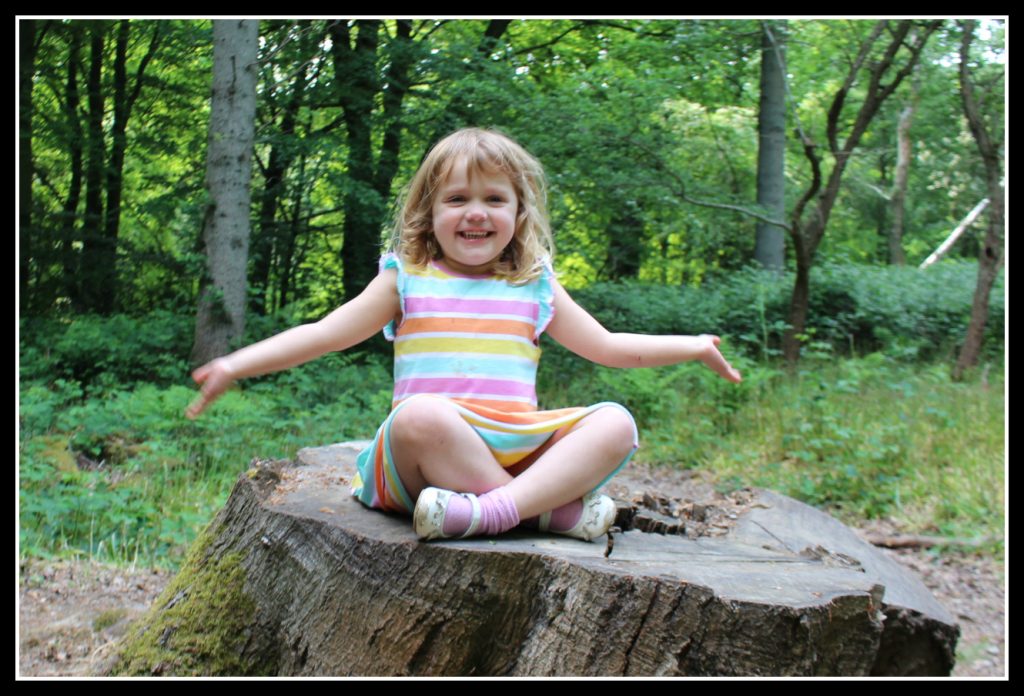 It was the perfect day for such a stroll. The sun was shining and the surrounding fields and tress all seemed to be so alive. The fields were a mass of different greens, whites, yellows and blues, full of fast-growing plants making the most of the gorgeous sunshine.
I wouldn't normally be able to take Helen, my seven year old on such a trip during the week. Yesterday was an inset day so she wasn't at school. Both kids had asked to go to soft play which, considering the weather, I reluctantly agreed with. I made it a condition that if we went to soft play for an hour or so, we would spend some time outside afterwards.
On the way home I took a diversion from the usual route and found a forest with public access. I let the kids go wild and they were climbing over tree stumps, clambering over a felled tree, climbing the trees themselves and trying to identify the different leaves.
It turned out this particular forest was used as an ammunition dump during World War II. It was bombed on a couple of occasions and we found a pond in one spot with no obvious water source. Could this have been a crater left by one of the bombs? Who knows! It wasn't particularly photogenic so I don't bother taking a picture.
The three of us had great fun. We've vowed to return as soon as we can with Mrs Adams so she too can enjoy the forest and all it has to offer.
I've linked this image to the #CountryKids linky hosted by the Coombe Mill blog. Click on the badge below to visit the linky and see what outside fun other bloggers have been getting up to.
Interested in this blog post? Well have a read of these...