I woke up knowing I had a big day ahead of me. I was one of keynote speakers at the Genderation conference taking place at Brighton, Hove and Sussex Sixth Form College (BHASVIC). The aim of the event was to discuss a range of topics related to gender with an audience of Year 12 students. I was going to deliver a message, based on my experiences as a stay at home dad, that men are just as good at care-giving as women.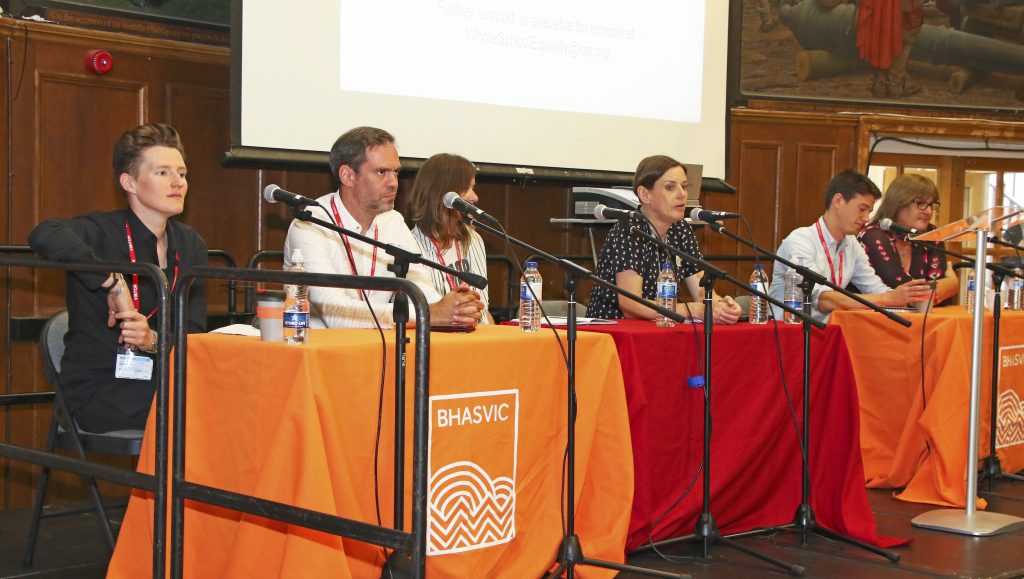 Navigating chaos
I needed to arrive by 9am and the sat nav said this would be straightforward. Of course, the satnav doesn't take account of family life when calculating routes. Having only moved house days previously, we're still living in a state of chaos and I couldn't find all my daughters' school uniform.
When it had eventually been found and the kids were dressed, Helen decided it would be a good time to start making loom bands. She had to be persuaded to stop this before I could get both kids in the car and to the childminder who was kindly dropping them off at school for me.
Having navigated this chaos, I hit the M25 and it took me 30 minutes to drive two miles. This was an exceedingly unpromising start to what turned out to be a very inspiring and enjoyable day.
Yes, I arrived late. I was ushered straight on stage to deliver my keynote speech and I explained that loom bands had contributed to my late arrival. I felt this point was worth making so the students in the audience, and there were a lot of them, could see that I genuinely am the main carer for my two young daughters.
Keynote speech delivered, I was then to participate in a panel discussion. What an amazing panel it was.
Introducing the panel
When I was first asked to participate in this event, I simply had to accept. Over the years I've spoken to a number of different audiences but never to an audience of young adults.
I saw it as a great opportunity to fly the flag for male caregivers and stay at home dads to a young, receptive audience. What I hadn't accounted for was the superb quality of the panel.
In addition to myself, there were two former BHASVIC students. Hollie Head is a female rocket scientist who spoke passionately about getting women and girls interested in science, technology, engineering and mathematics (STEM) not to mention her experiences as a gay woman. Joel O'Donoghue, meanwhile, had left BHASVIC to go into the arts and is now a dancer and choreographer.
Jessica Wodfall is a part of the No More Page 3 campaign and had more than a few things to say about  the media and the way it portrays both women and men. The final panel member was Sophie Cook, a trans woman who has the most amazing background.
Formerly in the Royal Air Force, Sophie was born Steve but now lives as a woman. She is official photographer for AFC Bournemouth, a television host and was nearly elected as Labour MP for East Worthing and Shoreham in the last General Election (and would have been the first openly trans MP elected to Parliament).
Just a little terrifying
I really didn't know what to expect from an audience of A-level students but I confess I was terrified. I personally found the questions to be very diverse and challenging.
We were asked whether biology accounted for gender inequality. We were asked whether we should focus on equality of opportunity instead of equality of outcome. If there's going to be a topless female model on page three, shouldn't there be a topless male in the same publication? What could teachers do to ensure they were not reinforcing unhealthy stereotypes? What role did religion have in reinforcing stereotypes?
Those are just a few examples of the questions we faced. They were all considered and forced us panel members to think.
A great opportunity
Participating in the Genderation conference was both a great opportunity and an honour. It was also a pleasure speaking to such an engaged and interested audience.
Asked to sum up and give my thoughts on what I'd like the students to take away, I said I'd like them to appreciate that men can be just as good at fulfilling caring roles as women. This could be as a father or carer or working in teaching or nursing etc.
Sophie Cook, meanwhile, was even more succinct. She simply said "respect everyone." The final panel member to speak, it was a great note to finish on.
Interested in this blog post? Well have a read of these...