I present to you here a view from the Coca-Cola London Eye. Broadly speaking, this is a view looking east and what you can see directly in the foreground is construction work going on in the South Bank area of the city.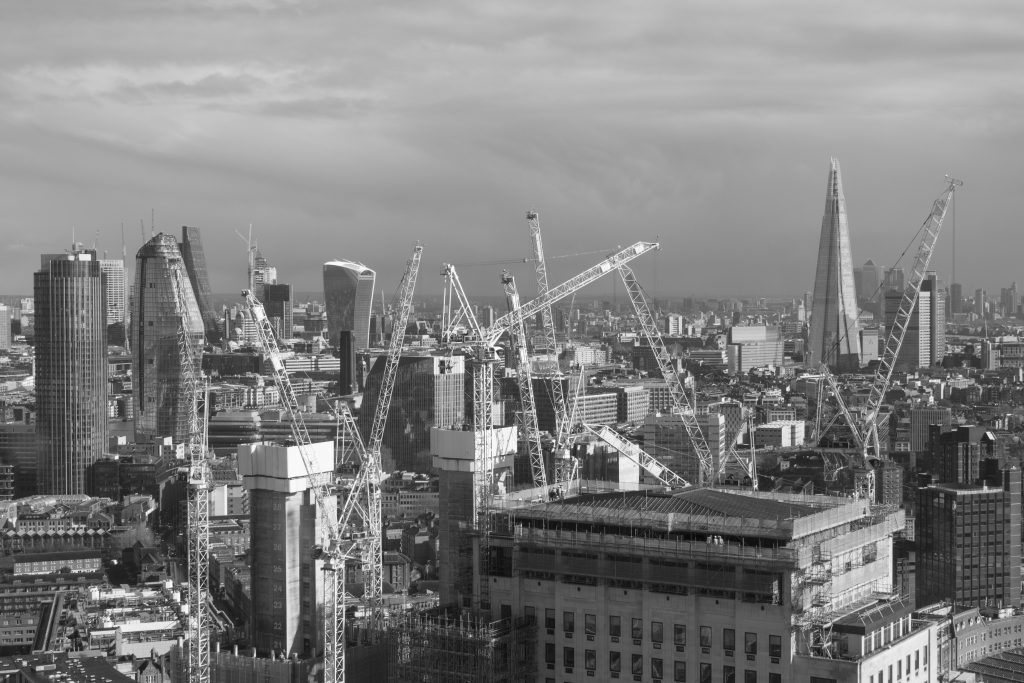 I think you'll agree it makes for an interesting comparison with this very colourful picture which I took a few weeks ago of the same area at nighttime. It was fascinating being so high. it provided a totally different perspective and you could see just how much building work is taking place in the area.
I'd taken Helen and Izzy to London for the day. We'd specifically wanted to go to the Coca-Cola London Eye during half-term. As we were in the line to board, it started raining heavily.
This was a bit disappointing as I'd been hoping to get some good photographs while we we so high above London. Thankfully the weather cleared up, but the skies remained very grey and the pod was streaked with rain water, which didn't help when taking pictures.
This was one of the better photographs I took but the skies were so grey I felt the picture worked a lot better when I flipped it to black and white! You can see some of London's signature landmarks.
To the right of the picture you can see No 1 Canada Square in Canary Wharf. To the left of that is the Shard while further to the left is the Walkie Talkie and the Leadenhall Building. Personally speaking, my eyes are drawn to the cranes and also the soft, swirling patterns in the clouds.
I will be writing a more detailed review of our trip in a few weeks time as part of my role as a Merlin Annual Pass ambassador. In the mean time, you can read about the other Merlin-operated attractions we've visited by reading this post about our trip to Madame Tussauds or this one about our trip to Shrek's Adventure.
I will be adding this post to the weekly #MySundayPhoto linky hosted by the Photalife blog. It's well worth visiting if you enjoy photography.
Interested in this blog post? Well have a read of these...