Being a father of daughters means I have been given an insight into aspects of life that some men never experience. This Christmas time I have added a new experience to the list: visiting a women's hair stylist.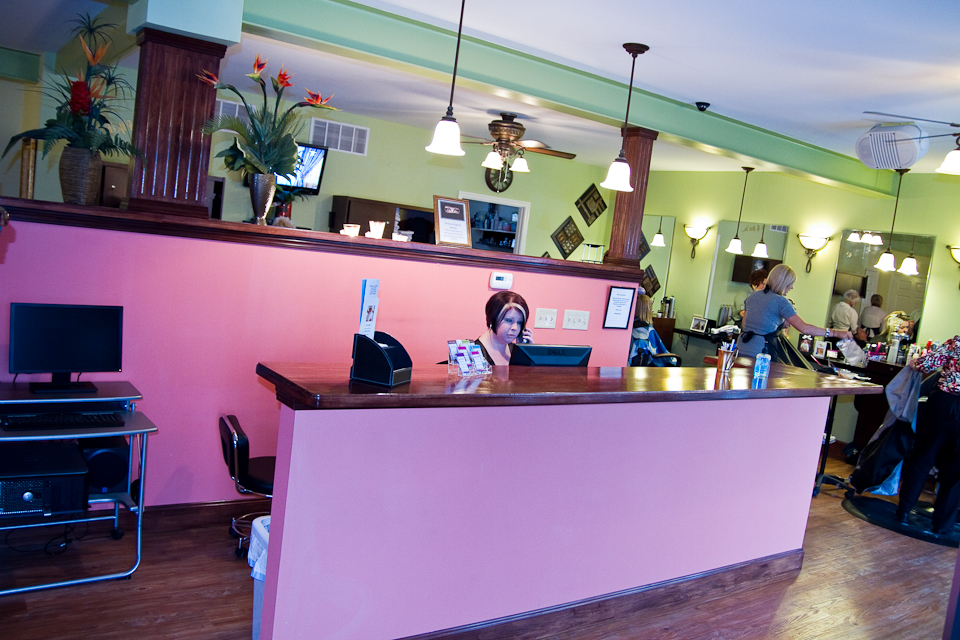 It will be a familiar scene on Christmas Day; we will be meeting up with others and want to look our best. I've written in the past about Izzy's dislike to having her hair cut.
As a result, her hair had grown to a point where she resembled an unkempt hippy, Helen, meanwhile, is intent on growing her hair as long as possible. As parents we have no issue with this, but Mrs Adams and I felt a need to ensure Helen's fringe was cut so she could see where she was going (that's not too harsh, surely?).
At this point I must give you a little back-story. I used to take the kids to a tiny, no appointment necessary place. I went there on someone else's recommendation and they seemed to do a reasonable job, even if the staff could be a bit miserable. Helen used to enjoy it and so we kept going back.
I then discovered a hair salon round the corner. We ducked in once for Helen to get a quick trim and it was a different world. Happy staff, not only happy staff but staff who willingly showed me where the lavatory was when Izzy needed to go while her sister was having her hair cut. This would never have happened at the no appointment necessary place and so I was sold. It even cost less money.
For Christmas I made an appointment and returned with both kids. This was a big deal for two reasons.
Firstly, for months Izzy has steadfastly refused to let anyone to cut her hair but me. Secondly, making an appointment is foreign to me. I mean, like, I got an appointment card and everything.
I'm a man, I go to a barber where I line up and have my hair cut. It's like a taxi-rank, I'll simply get whoever is free. If I'm lucky, however, I'll get the crazy Iraqi-Kurd barber who sets fire to a piece of alcohol-soaked cotton wool that he flicks it at the side of my head to burn away any down-like hair growing around my ears. Yes it's terrifying, but it's also kinda cool.
The women's hair salon, however, is a different world altogether. Waiting for our stylists to call the girls to sit down, I couldn't help people-watching. Customer and stylist gave each other hugs and kisses, which was a touch unexpected.
Customers were offered refreshments. The stylists, despite the pre-Christmas rush, were immaculately turned out, even if the false eye lashes were so large they entered the room several seconds ahead of the person whose face they were attached to.
As for my girls, well, Helen was taken off to have her hair washed before it was cut. She looked perfectly at home lying back with her head in the sink, an experience she thought was incredibly cool.
The pay-cheque moment involved Izzy. Would she let a stylist cut her hair?
We'd previously reached an agreement that she would have her hair cut while sitting in my lap. Sure enough, Izzy stuck to the side of her bargain.
I had to keep adjusting my position so the stylist could maneuver around me, but she did a great job. In fact, we even had a little chat that didn't involve going on holiday.
She quizzed me about Izzy's fringe. I explained I had cut it and she said I'd done a good job.
Me? Do a good job cutting my daughter's hair? This came as a surprise. To my eye it looked like I'd cut it using a blunt stone.
I had noticed an intrepid man in the corner of the salon having his hair cut. I asked the stylist about this and she said the salon was doing "loads" of men's hair.
Apparently it's a growth market. Men are increasingly moving away from traditional barbers. Based on my experience with the London School of Barbering earlier this year, this remark didn't surprise me.
Nonetheless, I thought this salon was missing a trick. There were no pictures of men on the walls and all the hair products on sale were for women. Perhaps I need to advise them on marketing?
When I thought about it, I realised I hadn't visited a place like this since my mother used to take me to get my hair cut. It also struck me that a man with sons would never get an insight into this world.
Watch this space guys. I can think of many other experiences familiar only to a father with daughters. I'm going to write about them in the weeks to come. Rest assure, none of these experiences involve crazy barbers and flames.
Interested in this blog post? Well have a read of these...