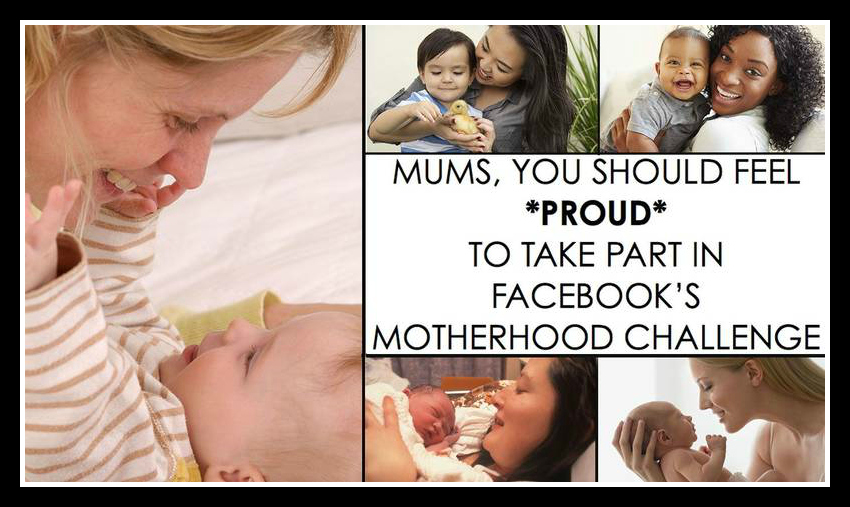 I'm about to make a rash statement; it strikes me the so-called Facebook Motherhood Challenge has failed.
I don't know about you, but my Facebook timelines have been incredibly quiet on this subject. It's the kind of thing I would expect to be phenomenally popular, not to mention a little irritating. A quick stroll through my news feeds, however, has only uncovered one participant.
By contrast, a quick search for the phrase "Facebook Motherhood Challenge" reveals many posts from people, mainly women, criticising the entire venture. I'm going to make another rash statement; for once common sense seems to be reigning supreme on social media.
Now then my dearest reader, I would be really curious to know; am I alone in this? Is it simply that I am friends with the wrong people or that I follow the wrong pages? Are your timelines stuffed to bursting with clichéd images of photo-shopped domestic perfection (it'll probably end in divorce) or dull posts about how hard it is being a mum (yawn)?
What does a stay at home father such as myself think about the this so called challenge? I obviously can't speak for all men, but here are my main objections;
It is not a challenge. It involves posting a few pictures on Facebook and writing a few words. If this is challenging to you, good luck raising children.
I find myself agreeing with Flic Everrett's comment piece in the Guardian. This causes me particular pain as the Guardian is a publication I don't generally get along with. That said, in her article, Everett states; "It's the revived fetishisation of motherhood, the idea that it's a "challenge" that only "mummies" can understand, an exclusive, excluding club of laughing, shiny, breast-feeding super-beings who know exactly how to raise "great kids" and will only invite others of their kind to join the party."
It's that second point that bothers me the most; the exclusivity of the challenge. Whoever established it (the origins are shrouded in mystery) probably had well-meaning intentions.
According to what I've seen on my Facebook pages, it has backfired and been very divisive. As opposed to seeing lots of happy, family photographs, I'm seeing women unable to conceive or women that have miscarried or lost young infants making clear they have no wish to take part and that they find the whole thing upsetting.
I'm not hugely fussed about mums wanting sprinkle a little positivity on their Facebook timelines. As a dad blogger, it would hypocritical for me to hold any other position.
This venture, however, is exclusive and alienates people. What about the 181,000 single parent households in the UK headed by men? Where do male same-sex couples fit into it? How about widowers? It's clear the small, but growing, population of stay at home dads such as myself are not welcome to participate.
If there were a Facebook Fatherhood Challenge, I'd have to post pictures of myself dealing with insensitive healthcare workers. I'd post images of myself sat on my own at soft play centres, surrounded by groups of mums who have known each other seen the heady NCT days or standing outside ladies' conveniences, waiting to change a nappy. Actually, that last point is a lie. We haven't used nappies in this house for about six months, but you get the point.
That said, if there was a Facebook Fatherhood Challenge, I wouldn't take part. Why so? Well, because it would be exclusive. More importantly, however, it is only a Facebook update. It's importance and relevance should not be overstated. Oh, yeah, and the entire concept is so tedious.
Pic credit; Lifestyleone.com. 
Interested in this blog post? Well have a read of these...