Here's a photographic tutorial about light painting. This is a technique that involves using a long-exposure time to photograph a moving light source. Before I go on, it wasn't my intention to create an image like this. It came about by accident and I wasn't even sure about keeping this shot until my eldest daughter told me she thought it looked "cool".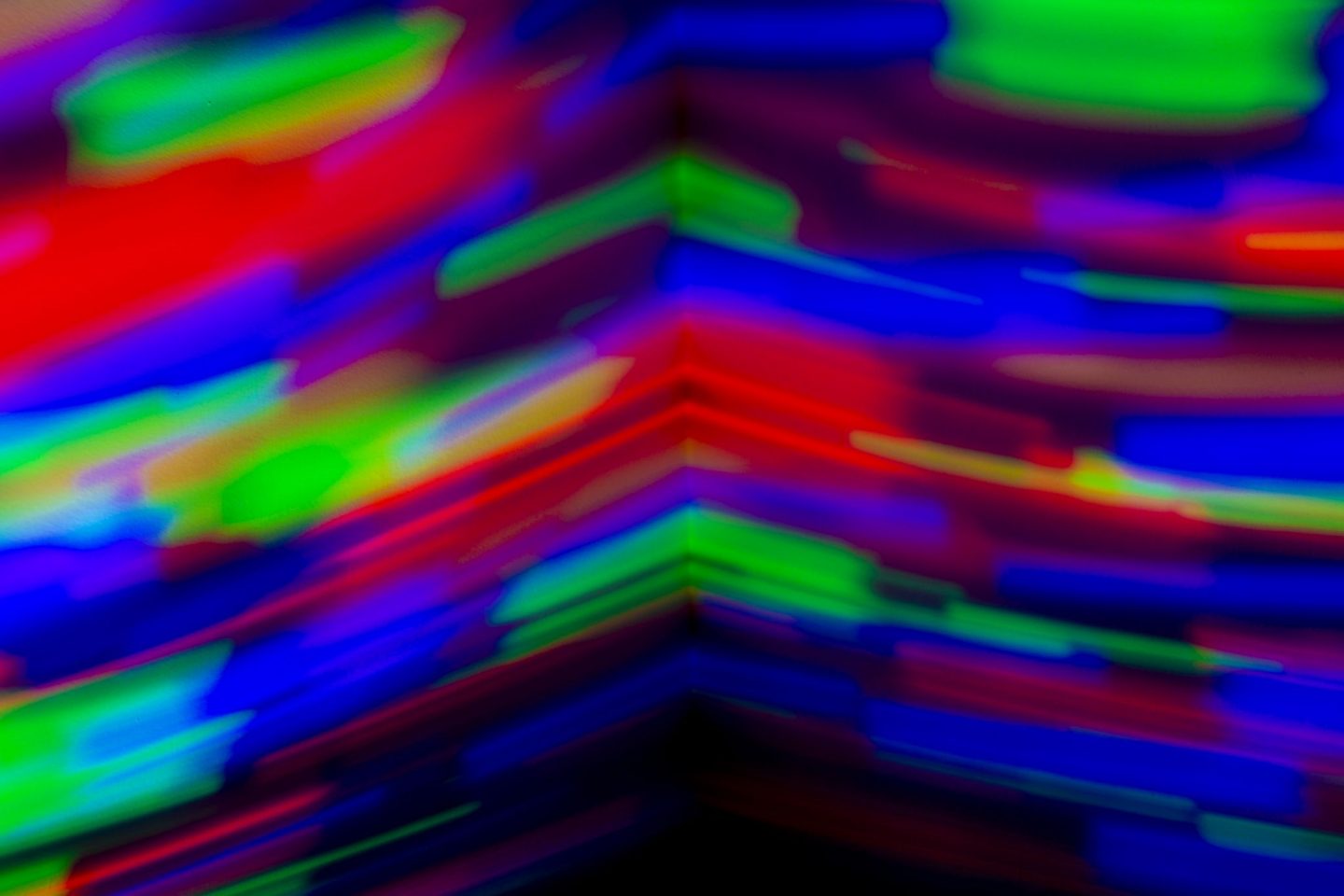 The photograph I had intended to take
I hadn't intended to produce a photo using light painting techniques. I was supposed to be taking images with a 10-stop filter. This is a filter that restricts the amount of light that gets into the camera and you'd usually use it to photograph clouds on a sunny day or crashing waves on a beach.
In the absence of a sunny day and having only recently returned from a photographic escapade on the coast, I set up a light that my youngest daughter, Izzy, has in her bedroom. It projects revolving star patterns on to the walls and I wondered what would happen if I tried to photograph the patterns with the 10-stop filter on my camera.
The punchline. . .
As I said at the start, my intention had been to experiment with my 10-stop filter. When reviewing the images, this one shone out as the most colourful and eye catching.
It turns out the filter wasn't on the lens at the time. This is just one of the shots I took while setting my equipment up!
The advice I'd give to any photographer is not to get too downhearted in these situations. Many a time I've set off with a very clear idea of what I wanted to photograph but returned with something totally different.
How I took the picture
Firstly, I purposefully set the light up in the corner of a room. That's why the colours seem to be going around a corner. I felt that added a different aspect to the image.
I took the image in manual mode. The exposure time was set to 3.5 seconds. For an exposure time of this length, the camera must be mounted on a tripod or else you experience camera shake.
I also set a timer so the picture was taken 10 seconds after I pressed the shutter release. Again, this was to avoid camera shake.
The aperture was set to f5.6 and ISO 100. During the editing process, I ramped the black colours right up to 100% creating more contrast between the colours and the background of the wall.
Have a go yourself
I'd encourage you to give this a go yourself. Most DSLR or good quality bridge cameras will enable you to use similar settings and you could use any number of light sources.
Light painting is a technique I've used many times in the past using all manner of light sources. This is an image I took last year using Christmas tree lights and, once upon a time, I set up a My Little Pony fibre-optic lamp and photographed it through a prism. I placed that image on my Unsplash page and it's proven to be very popular.
One further bit of advice I'd give is to listen to get a second opinion. I really wasn't sure about this image until Helen, my daughter, told me what she thought of it. I appreciate it is abstract, but I was prepared to delete it and it's grown on me a lot.
Do you like this shot? Have you attempted pictures using light painting techniques yourself? If so, please leave a comment below.
Interested in this blog post? Well have a read of these...