This was a test drive with a difference! Just a couple of days after this Nissan Leaf was dropped off, the weather turned. Snow fell and the ground froze. This was a real baptism by snow which enabled me to see how the battery held charge in freezing conditions, plus really test out the road handling skills of an electric vehicle (EV) more renowned for day to day, about town driving.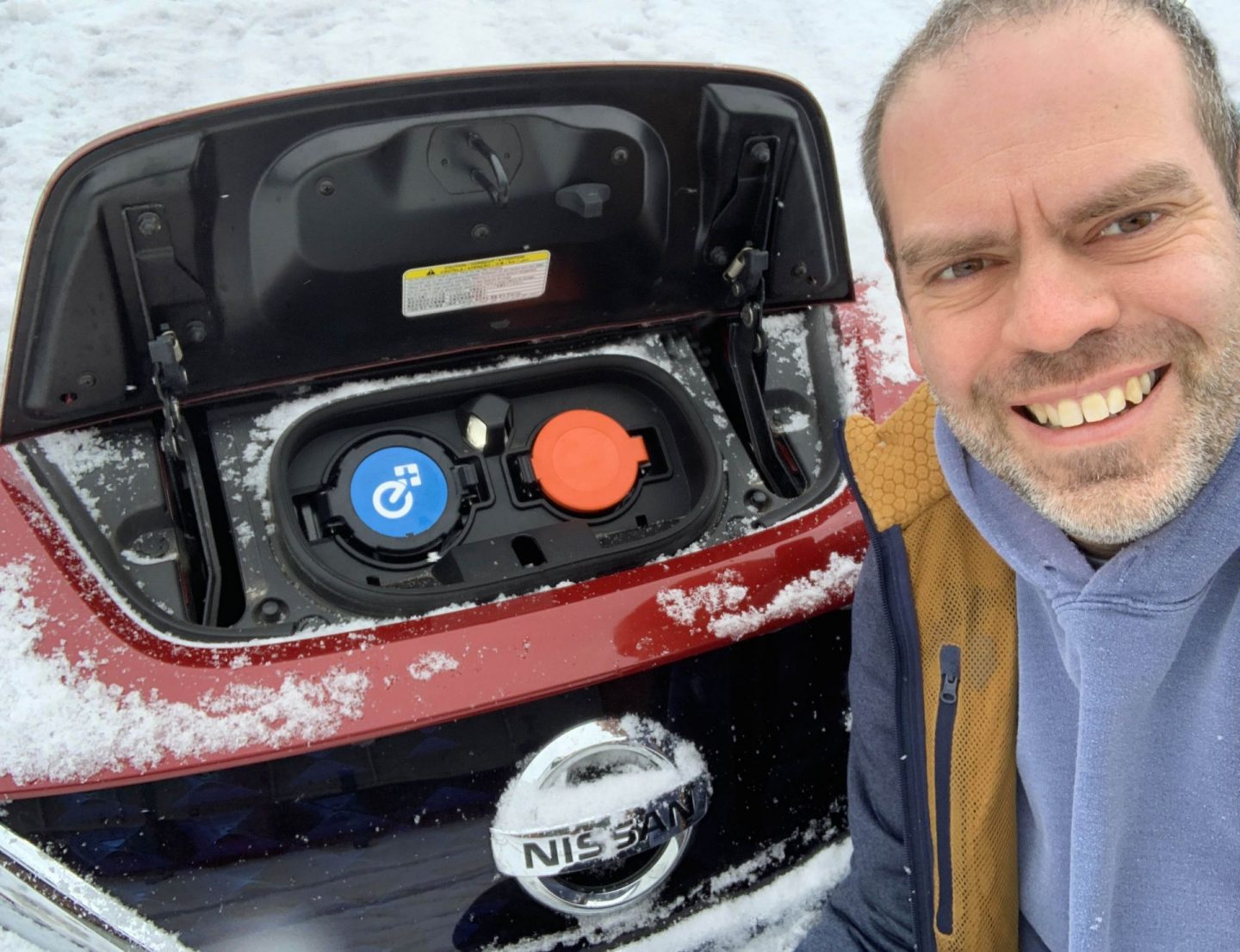 My history with the Nissan Leaf
This isn't the first time I've driven a Leaf. A few years ago I did a crazy experiment where I drove five electric cars in five days and a Leaf was one of them. At the time I said it was a "good solid performer" but that it "didn't set my world alight."
The Nissan Leaf e+ Tekna 62kw, to give it its full title, is a completely different vehicle. This new and improved model has been very well styled and reminded me a bit of the Toyota C-HR.
At first glance the interior looked very appealing. The central console and dashboard were well-built and the digital instrument panel was easy easy on the eye. The main controls were all well-placed and easy to use.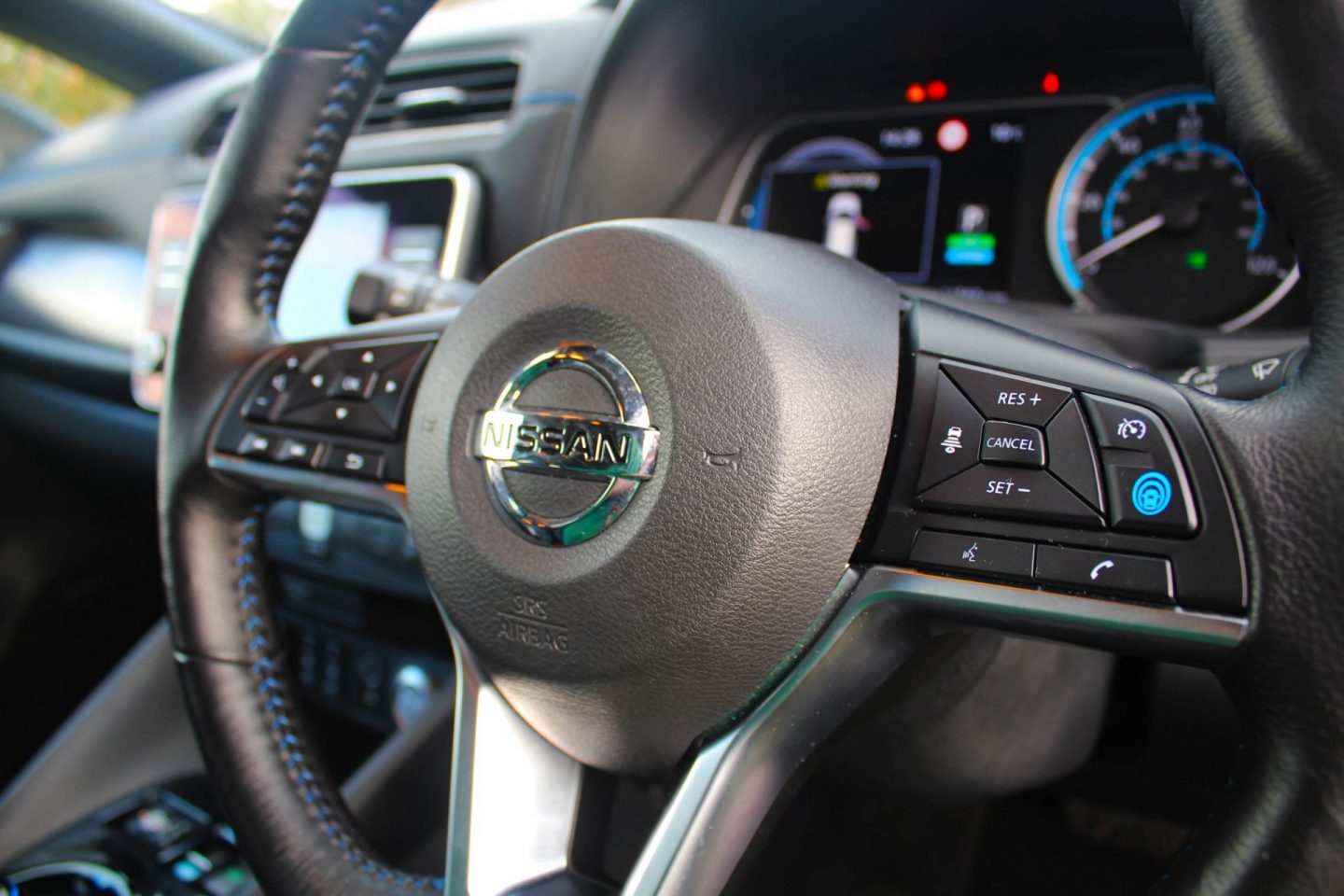 It also boasted a an e-pedal or 'one pedal driving' mode. As I'll show, this was going to come into its own.
At first sight, it was a bit early to say this new Leaf set my world on fire. Nonetheless, I could see it had huge potential as a family car and I was very keen to get out in it and see what it was capable of.
Specifications
Before I get on to the Leaf's performance, here are a few key specifications.
NCAP safety rating: Five star
Size (Length/width/height in mm): 4490/1788/1530mm
0-62mph: 6.9 seconds
62kw battery
Automatic transmission
PS = 217 / BHP = 214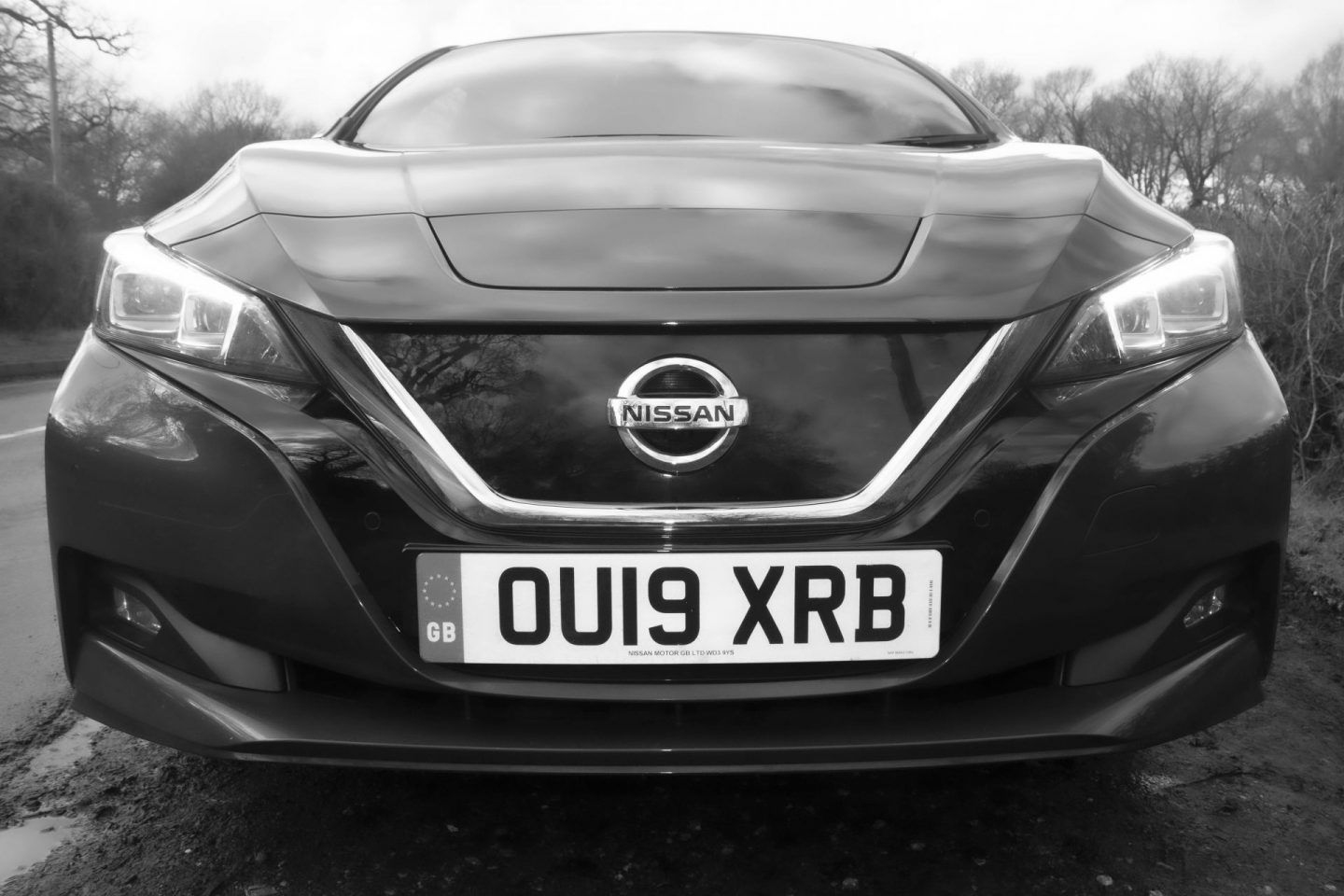 Charging time and range
Being an electric vehicle, the most important specification you probably want to know about is charging time and range. Nissan claims this particular model has a range of about 239 miles. It was dropped off with 200 miles on the clock and I ate my way through most of them before having to charge the battery and hand it back.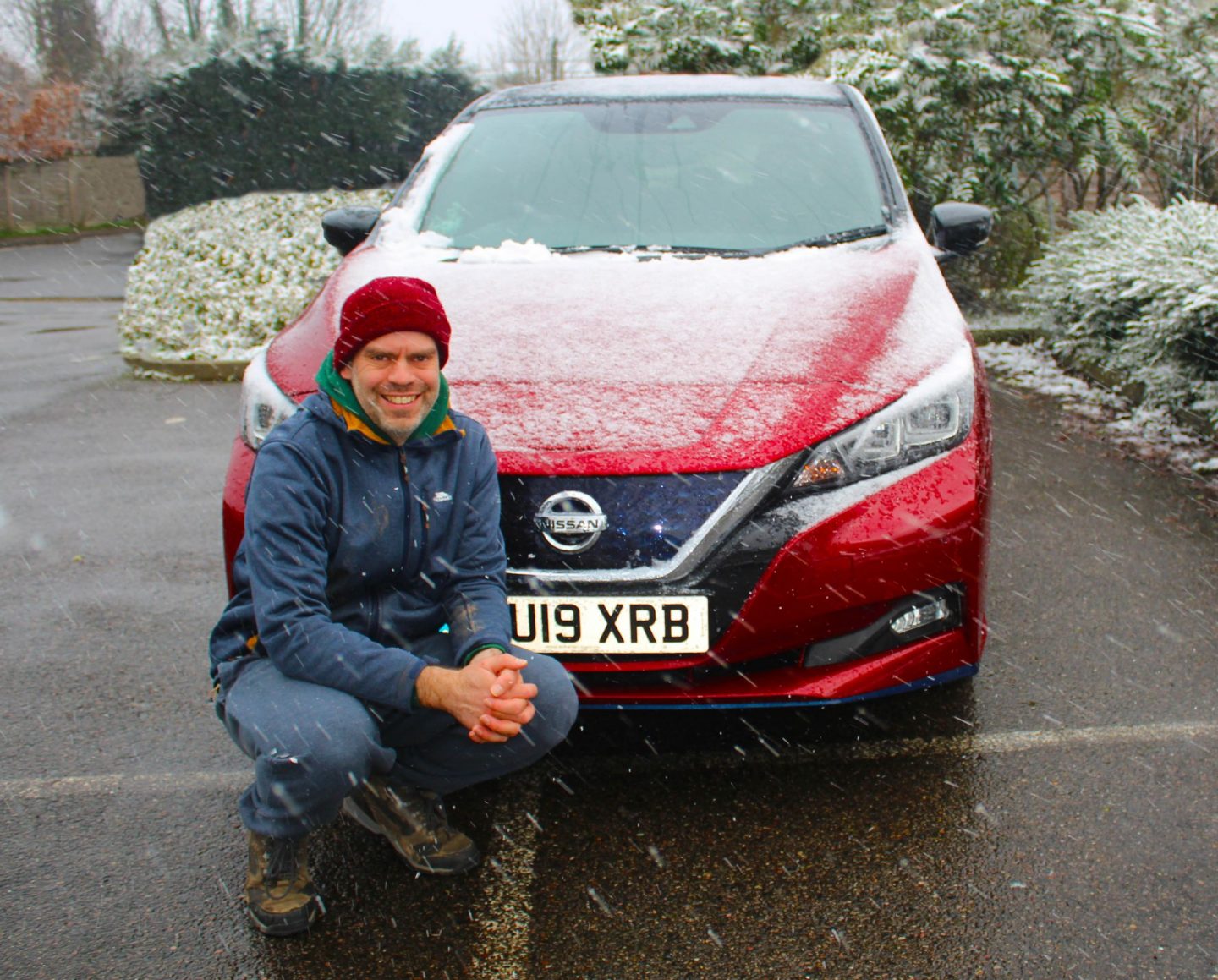 The first thing to say is the range-metre on the instrument panel was terrifyingly accurate. It was absolutely spot-on for every journey we undertook. The battery also coped well with having heaters, demisters etc. all going at the same time. They didn't seem to drain huge amounts of power which showed the car has been designed with efficiency in mind.
When the battery was just about flat, I popped in on to charge. It took about seven hours using a standard, 240v household, three pin plug. I didn't get a chance to use a rapid charger, but if I had, it would, according to Nissan's figures, have taken between 60 and 90 minutes.
Of course, I was using this car during the recent cold snap. Read on to see what kind of impact this had on the battery's ability to hold charge.
Nissan Leaf performance
One thing became apparent to me very quickly about the Leaf. This model can shift. I was impressed at how responsive the accelerator was. It wasn't what I was expecting considering my experiences with the previous generation of Leaf but it was a very pleasant surprise!
I found the parking cameras and sensors to be a great help. You get a bird's eye view of your car when using the cameras, not something I'd necessarily expect to see in a vehicle in this price range.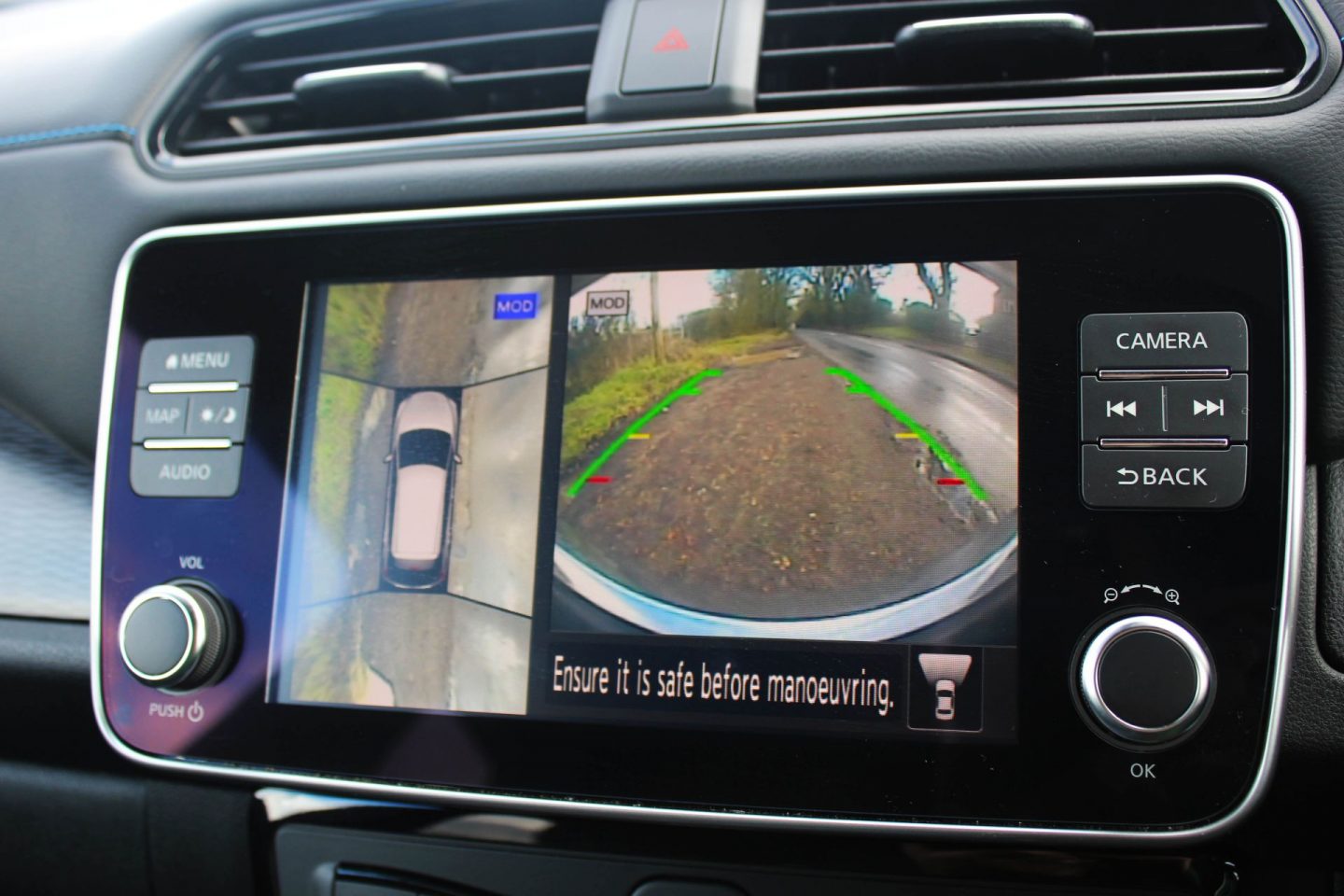 There were no complaints from my children about the amount of leg room in the back. I always consider this a good sign, especially as my eldest daughter, 11-year-old Helen, is now as tall as her mother!
What of that e-pedal? A flick of a switch (or rather a "depression of a button") mounted on the central console will convert the car from a standard two-pedal automatic to one pedal driving.
If you move your foot off the accelerator, the car will quickly take the speed out of the wheels and bring you to a firm halt. It doesn't disable the brake, but it'll bring you to a quicker halt than if you just take your foot off the accelerator in normal driving mode.
I'll be quite honest, I wasn't a huge fan of one pedal driving. Until, that is, the snow came down and the roads froze.
At this point the e-pedal came into its own. As one pedal driving takes the speed out of the wheels (no doubt done magnetically using the on-board computer) the car stopped without sliding all over the road. Far from taking control away, it gave you an extra option in poor driving conditions.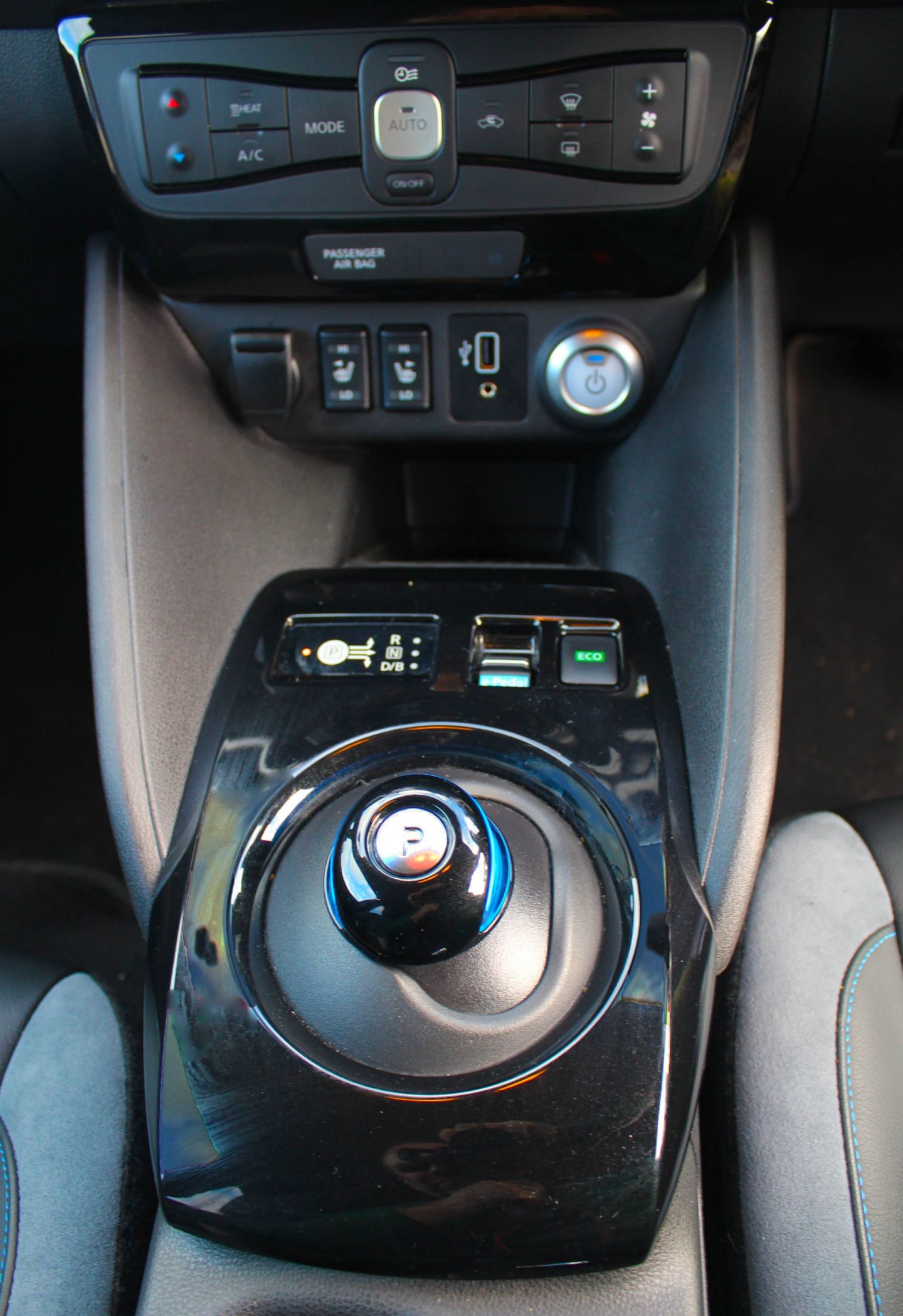 I think the e-pedal mode would come into its own when combined with Nissan's PROPilot semi-autonomous driving system, which was fitted on this model. Alas, the snowfall, not to mention the COVID-19 induced lockdown, meant I didn't get to take the Leaf out as much as I'd have liked so I didn't get a chance to thoroughly try out PROPilot. It's something to keep in mind if you try the car out yourself.
As for driving in snow, I found the traction control was very good. The only time I lost confidence was when I was going up a very steep hill. At about the point I was beginning to think "I wouldn't even take my own car up here" the Leaf began to struggle. I took that as a sign I should turn around and go home and that's exactly what I did!
That's no reflection on the Leaf. It's not a 4X4, it's a small electric car so it was bound to have limits in these conditions. I thought it did very well to get as far up the hill as it did.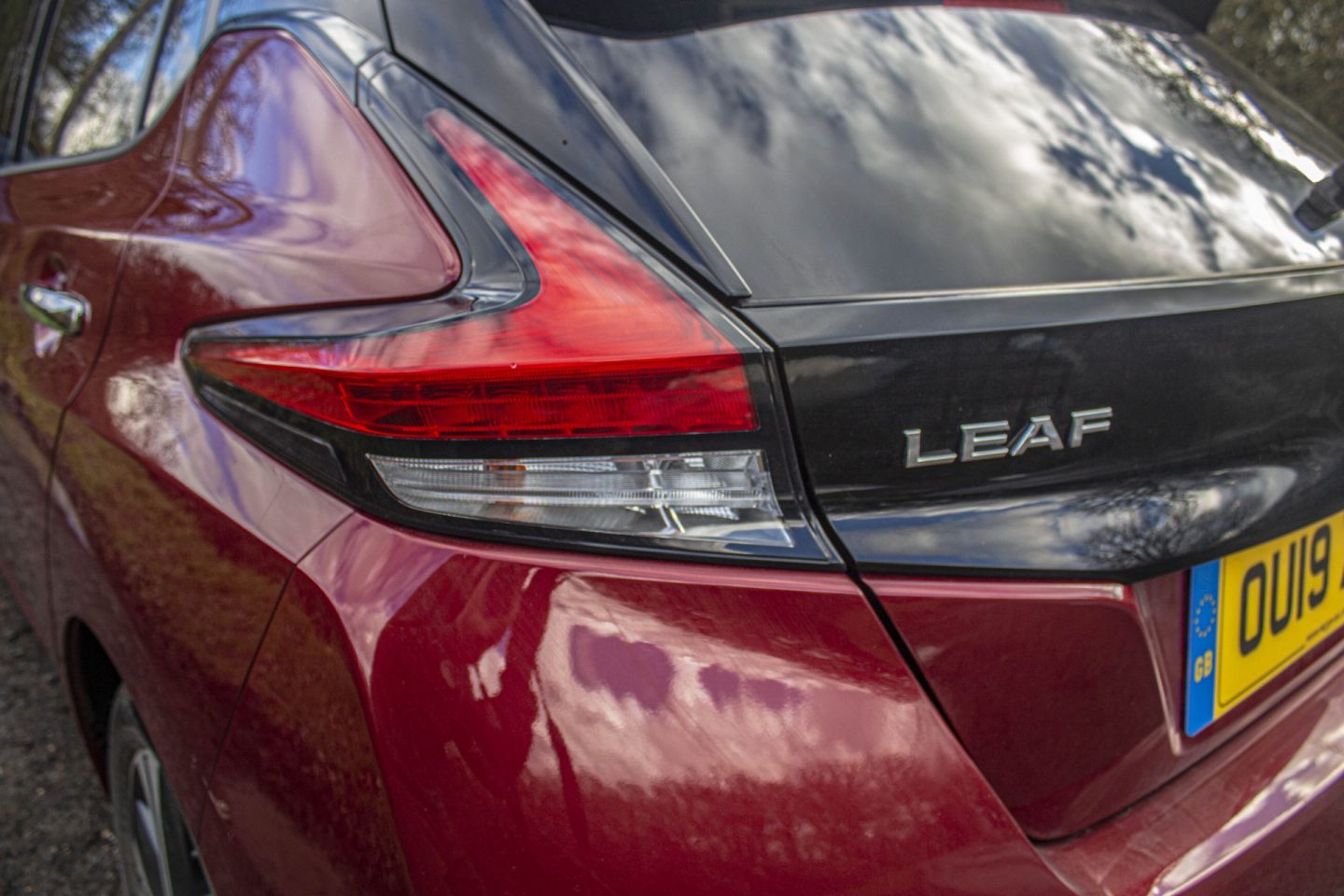 Other things to keep in mind
The Leaf has a boot space of 420 litres, increasing to 1,176 litres with the parcel shelf removed and rear seats folded down. The only thing I'd say is that the Leaf comes with an impressive Bose sound system…but the amplifier for it has been stuck in the boot, right up against the back of the rear passenger seats. I wouldn't say that was the cleverest place to locate the amp but there you go.
How did the cold weather affect the battery? With temperatures dropping below freezing, the Leaf lost 16 miles worth of charge overnight. I wasn't sure what to expect, but all things considered, didn't think that was too bad.
Price and further information
The Nissan Leaf e+ Tekna that I was driving can be on the road for £34,710. That said, this is one of the higher specification vehicles in the Nissan Leaf range. The starting point for the Leaf range is the Accenta, which has an on the road price of £26,845 (all prices correct at time of writing).
The Tekna is unquestionably a higher specification model, but if all those extras do nudge it out of your price range, I would certainly look at an Accenta or another Leaf model. Speed and range are better the higher up the range you go, but if you are looking for an about town electric vehicle that'll mostly be used for the school run, the extra features and cost may not be necessary.
Further information can be found online on the Nissan website. You may also want to check out the Nissan Europe Instagram feed.
Final thoughts
The weather conditions plus lockdown meant my ability to test out the Leaf were a little limited. None the less, I got to drive it in some really poor conditions and was impressed at how it handled the road.
The Leaf has some great safety features and the range was impressive making it a great family car. The Leaf has come on a long way from the vehicle I test drove back in 2017. One thing to keep in mind is that competition in the EV market has increased hugely since then. There are many other fully electric cars in this price range you might want to try out, but if it's a compact family car you are looking for, I would put this on your list to test drive.
Interested in this blog post? Well have a read of these...