Every now and again I am asked if I miss my old life. There seems to be some excpectation that, being a man, I must surely want to be in the workplace instead of on the school run. At this time of year there is one thing that proves to me beyond doubt I have no desire to return to my old life: The office Christmas party.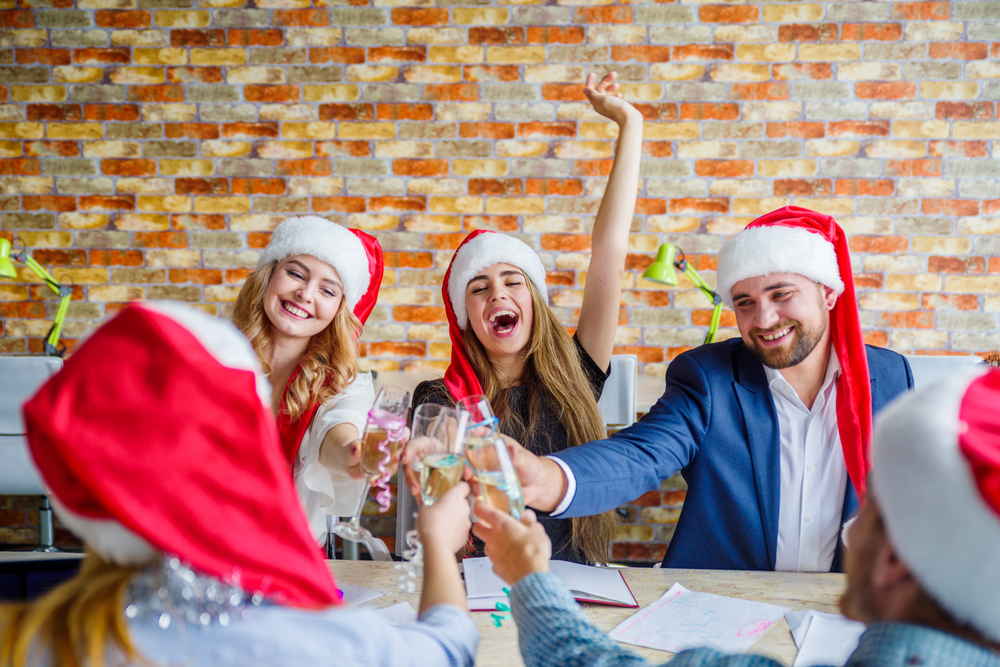 Needless to say, I don't get to attend an office Christmas party any more. I haven't been to one in several years. I just get to watch them as a casual bystander and find myself feeling greatly relieved that I don't have to participate in one.
I got something of a reminder of my old life when I was in London last week with Mrs Adams. She'd taken the afternoon off work so we could have a lunch together without the kids.
We struggled to book a table because of all the office parties that were taking place. We eventually found a place that wasn't heaving and after eating, had a couple of hours to spare before we had to collect the kids. With time on our hands, we went for a drink elsewhere.
Now this place was Office Party Central. We got a table for two right at the back by the store cupboards. It wasn't the best table but almost all the others had been combined to accommodate large groups of office personal steadily getting more exciteable.
As I watched, the memories of office parties from previous years started coming back to me. They made me laugh in a perverse way, although none of the memories was hugely pleasant, truth be told.
There was the work colleague who got in a strop after a few too many drinks when he discovered I'd got better scores than him in my annual appraisal. There was also the older female colleague who dragged me on to the dance floor and told me what she'd have done to me if I were 10 years younger. I really can't print here what one couple apparently got up to at the same party. I just hope the rummours aren't true.
As for Secret Santa, I mean come on, please, what is the point? I've tolerated Secret Santa many a time and never really got the point of it. At a time of year when your outgoings go through the roof, you are expected to buy someone utter tat for £5 / £10 (delete as applicable) and receive even worse tat in return.
In my younger days, however, the annual office bingefest was a social highlight. It was something I looked forward to and I even remember one year wrestling control of the budget so I could organise the office Christmas party. Ironically, I got the party organised and then resigned so never got to attend.
Yet there I was last week, several years later, several years spent as the main carer for my kids, watching familiar dramas unfold in front of me and feeling very relieved not to be a part of it. Okay, so I'm older and allegedly that tiny bit wiser so don't do things to excess like I once would have done, but my perceptions have changed and I have no desire to party with work colleagues at all.
No, I don't miss my old corporate life. If I ever find my mind wandering and wistfully thinking about how great it would be to return to it, I shall remind myself about all the office Christmas parties I attended in the olden days. That will be more than enough to put me off.
Do you enjoy the staff Christmas party? Whether you love it or boycott it, please do leave a comment with your thoughts.
Interested in this blog post? Well have a read of these...