I've had something of a crazy week, flying out to Melbourne in Australia on Monday and landing back in the UK yesterday. While down under I visited the infamous lanes of Melbourne, many of which have been given over to graffiti artists.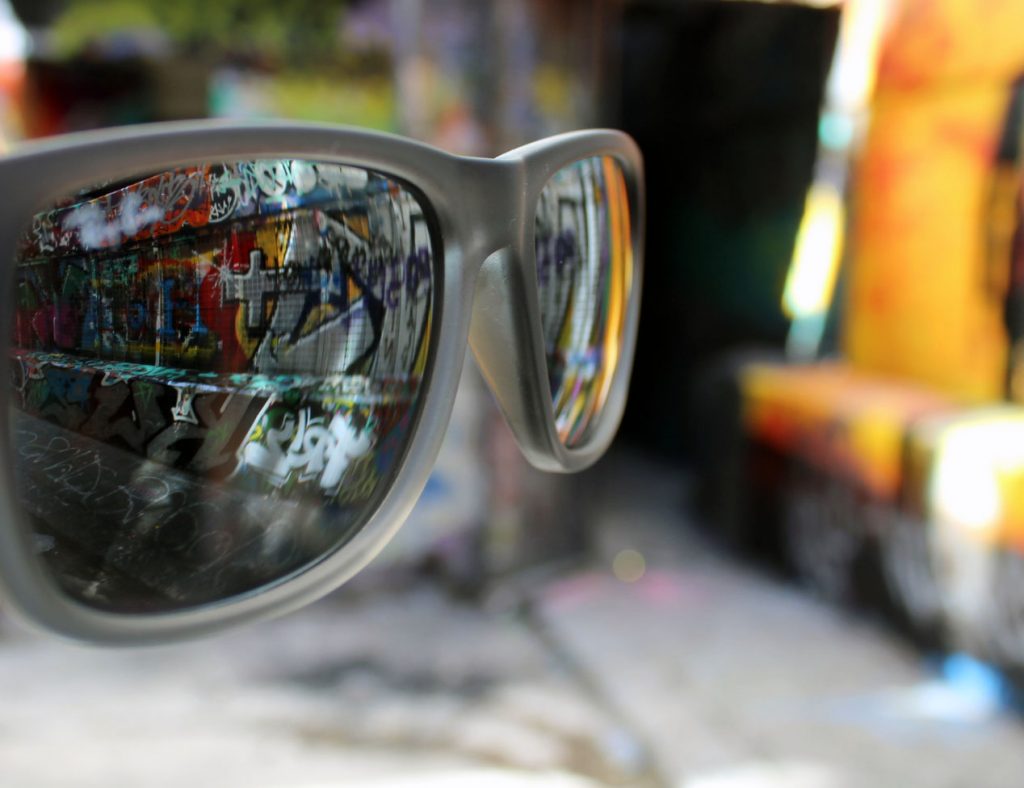 This isn't the first time I've visited Melbourne's Lanes. The spot that appears in this picture, a back-alley just off Hosier Lane, appeared on my blog about a year ago, the last time I was in Australia.
When I first visited, I pretty much had this back street to myself and could snap away in peace. This time, however, there were many more tourists and a crew of construction workers doing work to one of the neighbouring buildings.
If I was to take a decent photograph that didn't feature lots of visual clutter, I was going to have to get creative. Realising I was wearing reflective sunglasses, I wondered what the graffiti would look like if reflected in the lenses.
It was a bit more difficult to line things up than I expected, but I'm reasonably happy with the picture. Do you think the image works and do you like the graffiti? The graffiti really does seem to divide people, some loving it but many disliking it. As for me, I'll admit I'm a bit of a fan as it makes the Lanes look so colourful.
I've linked the picture to the #MySundayPhoto linky which is hoted by the magnificent Photalife blog. Do click on the badge below to visit the linky and check out amazing photography from other bloggers.
In case you're wondering what I was doing in Australia, I was part of a team advising the Movember Foundation on a project it is running looking at men's mental health.  This was the second phase I have been involved with of this long-running venture (you can read about phase one here) and yes, I'll be writing more about my adventures in Australia over the next week or two.
Interested in this blog post? Well have a read of these...