This photograph represents a trick of the eye. You could be forgiven for thinking it was taken forty years ago when it was, in fact, taken last week.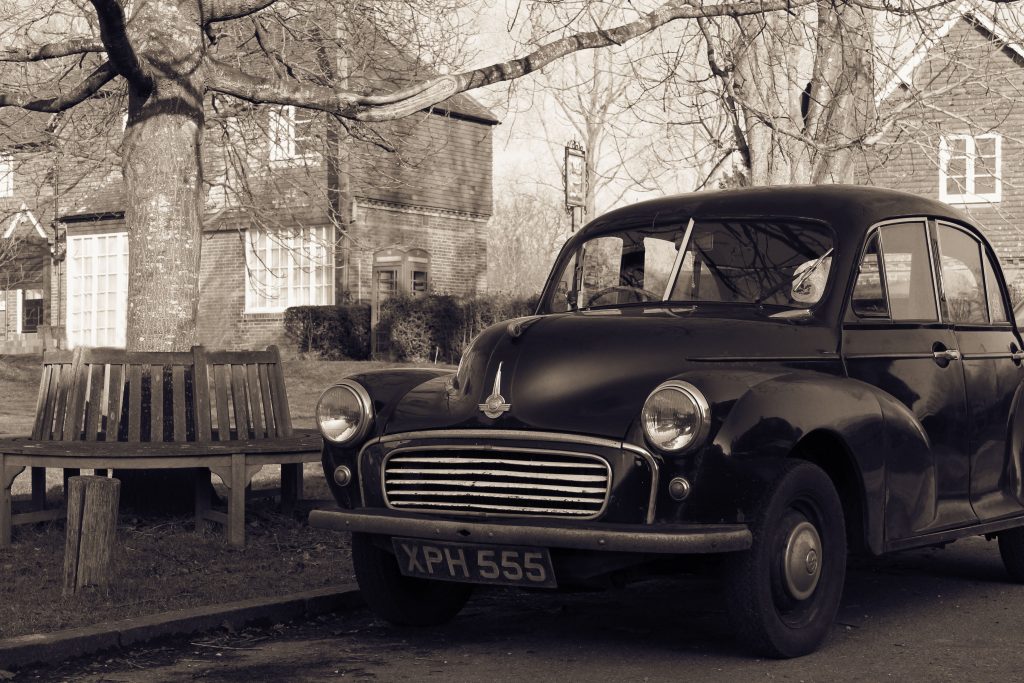 Having gone on a family visit to Bodiam Castle (see this picture of the surrounding landscape), we had lunch at a pub over the road. During the meal I looked out of the window and noticed this Morris Minor.
The Morris Minor has a special place in my heart as my aunt owned one when I was a young boy. I have very vivid memories of that vehicle.
I clearly remember the passenger door coming open as we rounded a corner while my grandmother was sat in the passenger seat (she was unharmed though a touch shaken). Another time I recall a hub cap flying off and bouncing down the road. Despite these experiences, I'm sure my aunt would drive one today is she could.
Having spotted this particular Morris Minor, I had an idea. Would it be possible to take a picture without anything from the twenty first century appearing in the shot?
It was more difficult that it sounds as there were modern cars parked all over the place. Eventually, however, I found a position that removed all the modern paraphernalia and when I got home I ran the shot through a sepia filter to age it.
Yes, okay, there is a phone box in the background. Personally, I think that ages the image more. They are, after all , a relic of the twentieth century not the twenty first.
I've added this picture to the #MySundayPhoto linky hosted by the Photalife blog. Click on the badge below to visit the linky and see imagery taken by other bloggers.
Interested in this blog post? Well have a read of these...