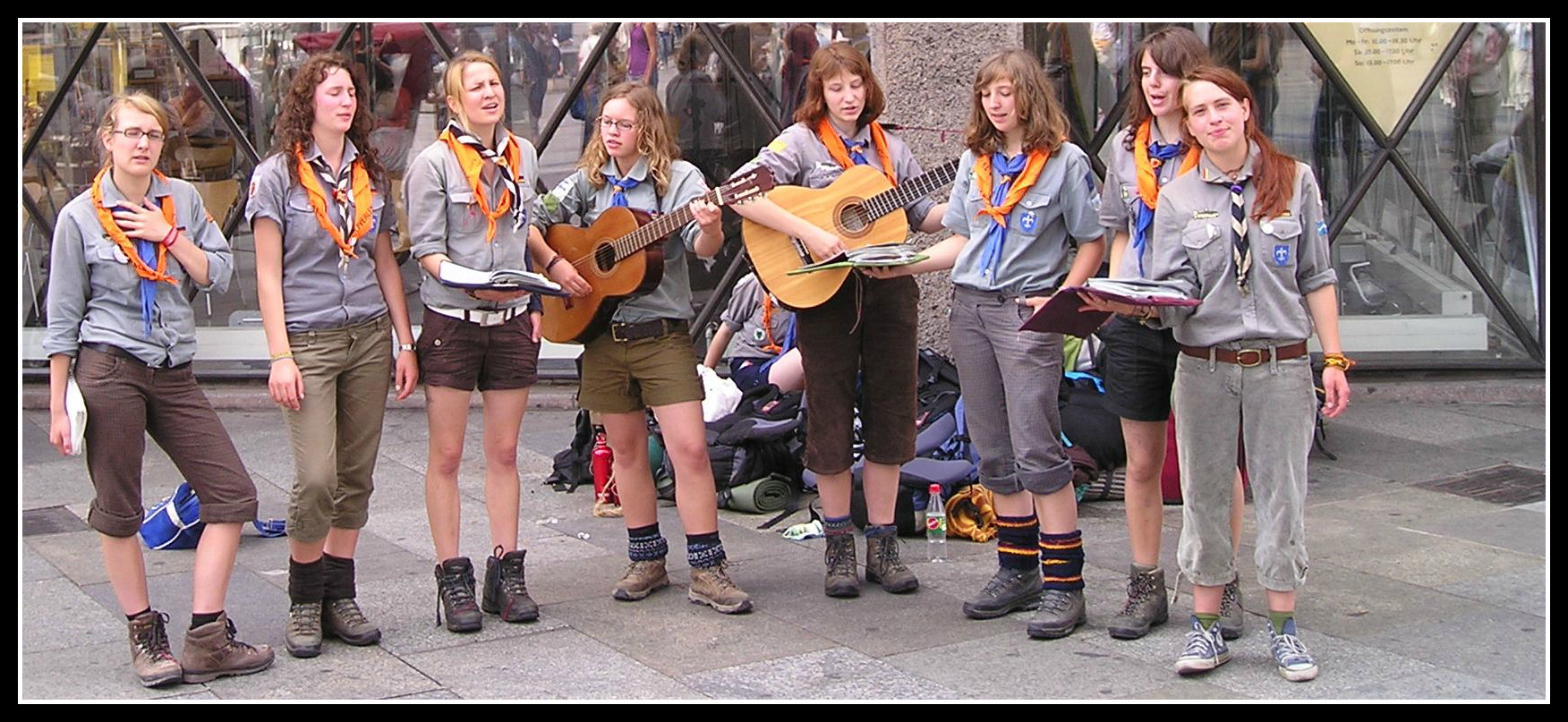 Some time ago I wrote this blog post about the discomfort I felt about my daughter wanting to join the Rainbows. I thought it was about time I gave you all an update.
So what happened? Did I put my personal beliefs to one side and allow my daughter to join the Girl Guides?
The short answer is yes, Helen briefly joined the Rainbows. This, however, lead on to the most bizarre situation I have faced as a stay at home dad and parent.
You see, I, John Adams, a man, ended up joining the Girl Guides. Yes, you read that correctly. I was in a strange twist, admitted to join the lofty ranks of an organisation that doesn't admit men or boys. What's even stranger is that I didn't even ask to join, it just happened through a bizarre bureaucratic anomaly.
You're probably wondering what on Earth I'm rambling on about so let me start at the beginning. Helen was keen to join the Rainbows. I was uncomfortable with this as I don't believe such organisations should be segregated along gender lines.
The Scouting Association has been admitting girls and women for best part of two decades (with one exception; women have been admitted to the Venture Scouts since 1976). By holding out against the tides of change, I believe the Guiding movement sends out a message to girls that they are either superior or need special treatment.
That said, I wasn't the one trying to join the Guides, it was my daughter. There was also no Scout group for her to join in the locality. My wife and I decided she could join, but that we'd try and steer her towards the Scouts at a later date.
There was a catch. The only way Helen could join was if a willing parent or two agreed to attend each weekly meeting. Quite sensibly there was an adult-to-child ratio and more adults were needed to meet this. As I happened to have a valid Disclosure and Baring Service (DBS) certificate, I volunteered and my offer of help was duly accepted.
Under the Guide's rules, however, I had to be DBS checked again. It was a mild irritation, but I understood the need and willingly gave up an hour of my time to go through the process.
This is where things get really interesting. Shortly afterwards, my new DBS certificate arrived. So did a letter welcoming me to the Guides and with it, a membership card. The letter made clear that a swift flash of my membership card would secure me a discount at numerous high street stores.
Receiving the membership card came as a total surprise. I hadn't asked to join. I hadn't filled in a membership form. It just happened. It seems volunteers are automatically enrolled, even if they have the incorrect chromosomes.
I mentioned this to 'Hedgehog,' the leader of the Rainbows group. Her response was very amusing.
"Oh it's brilliant," she said, "that membership card gets you a discount at all sorts of shops."
"But I'm a man," I replied, "I can't use a Girl Guide membership card!"
My membership will soon lapse. It is, however, entirely academic. After a while Helen decided the Rainbows wasn't for her and she moved on to other things. She's a little bit older now and if she expresses an interest in future, I'll politely suggest she becomes a Scout. Who knows, she may agree? A couple of her friends are members. As she's a bit older, it would be easier to get her into one of the nearby groups.
I'm sure you can understand why that was my weirdest parenting moment. I guess it's kinda unique, the sort of scenario that only a stay at home dad could find himself in.
What's your weirdest parenting moment? We've all had them and I'm sure some of you must have some real gems to tell.
Pic credit: Christliche Pfadfinder, reproduced under Creative Commons agreement.
Interested in this blog post? Well have a read of these...