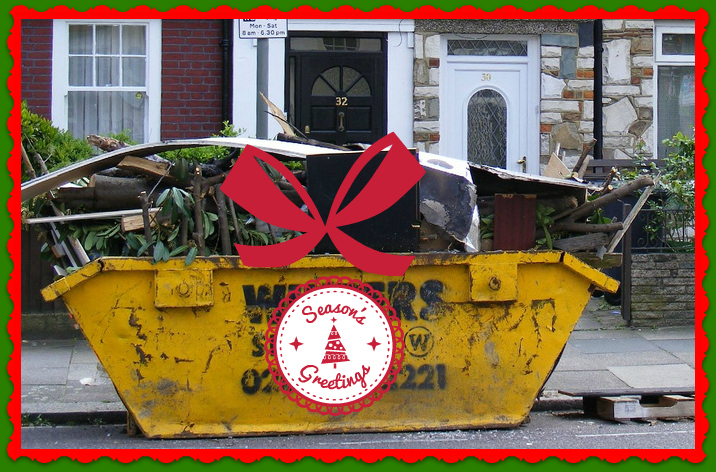 I've bought my family an early Christmas present. I'm not sure they're going to see it that way at first, but in time I think they will appreciate where I'm coming from.
So what is this amazing gift? I'll tell you; I've hired a four yard skip.
Why have I done this? Because our garage desperately needs to be cleared out and there are various other 'clutter hot spots' around the house.
Before the house gets filled up with new toys at Christmas time, I want to clear this place out. I've already hit ebay very hard with a load of things I can sell. In fact, I'm hoping my ebay selling activities will cover the cost of the skip hire.
Yes, I admit that hiring a skip is an expensive way of de-cluttering the house. The truth is, we have several sizable items of junk that won't fit in the car. Unable to transport them with ease to the dump, they've just sat, taking up space in the garage for years. Without going nuclear and hiring a skip, these things will never leave the property.
Although you wouldn't know it from looking round this house, I am also the ultimate anti-hoarder. Before marriage and children I lived in my own minimalist paradise.
I accept family life isn't compatible with a minimalist existence. I'm fine with compromise and adjusting my standards accordingly, but I have reached my limit. I just hope that having such a large bin directly outside the house for a couple of weeks will encourage the rest of the family to throw non-recyclable items into it.
What I'm wondering 'though, is whether I should tie some ribbon round the skip? My wife, you see, doesn't know I've hired it. It'll be a nice surprise for her when she gets back from the office tonight.
Pic credit; Sludge G. Picture edited and amended by John Adams. Reproduced under Creative Commons agreement.
Interested in this blog post? Well have a read of these...