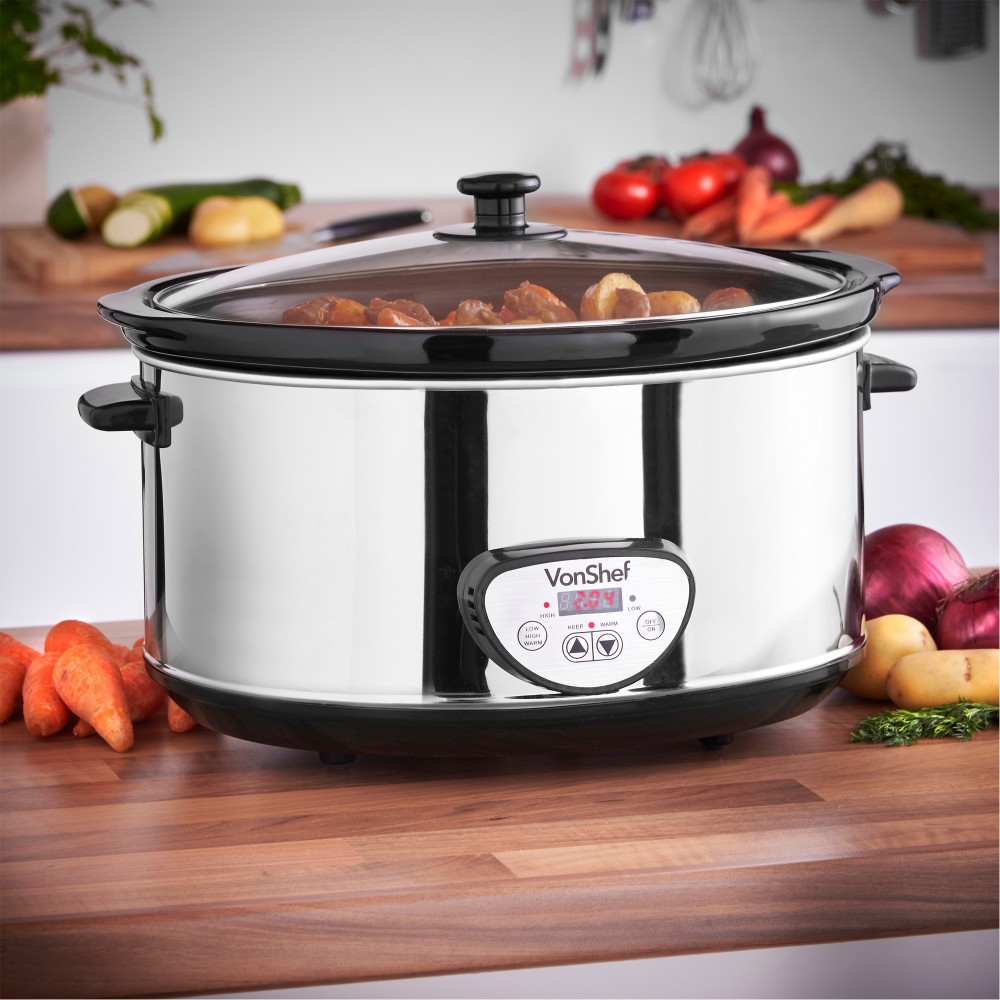 Over the past few months I've been taking steps to improve this family's diet. Mrs Adams and I start each day with a freshly made fruit drink and sometimes the children join us in having some. I've started getting more creative with Helen's lunchbox and made her meals more diverse.
Something I'd always been keen to try out was a slow cooker. I'm going to be blunt here; my aim was to get maximum nutrition and taste with minimal effort. Would a slow cooker enable me to do this?
I knew very little about these devices but they seemed like a good idea. Was it possible to throw a load of ingredients into a slow cooker in the morning and return to it in the evening with a meal for the family?
I spent five days using a VonShef Digital Slow Cooker from Domu. Could I produce an evening meal every day using this item? I'll reveal all in just a moment!
First of all I had to do a little research. I had two concerns;
1. slow cooked food would lose its nutrition and
2. a slow cooker would be energy inefficient.
I didn't have to look very far to find both my concerns were misplaced. I've found numerous sources that show slow cooked food is more nutritious than food cooked at speed. Slow cookers are also more energy efficient than using an oven (see here and also here for more info).
Before I tell you what I cooked, a quick word about the device I was using. The VonShef Digital Slow Cooker has a 6.5litre capacity, so it one of the larger models on the market. This, however, gives you the flexibility to over-cater and freeze meals to eat at a later date.
Like most slow cookers, it has a high setting, low setting and a warm setting. You can set the timer in 30 minute chunks. Once the timer has run its course and the food is cooked, it automatically changes to the warm mode where it will stay, keeping the food at a decent temperature, until you turn it off.
It is stupendously easy to operate. I also found it incredibly easy to clean. At £29.95 it is also competitively priced.
What you want to know is what I cooked. Here you go;
Coq au vin.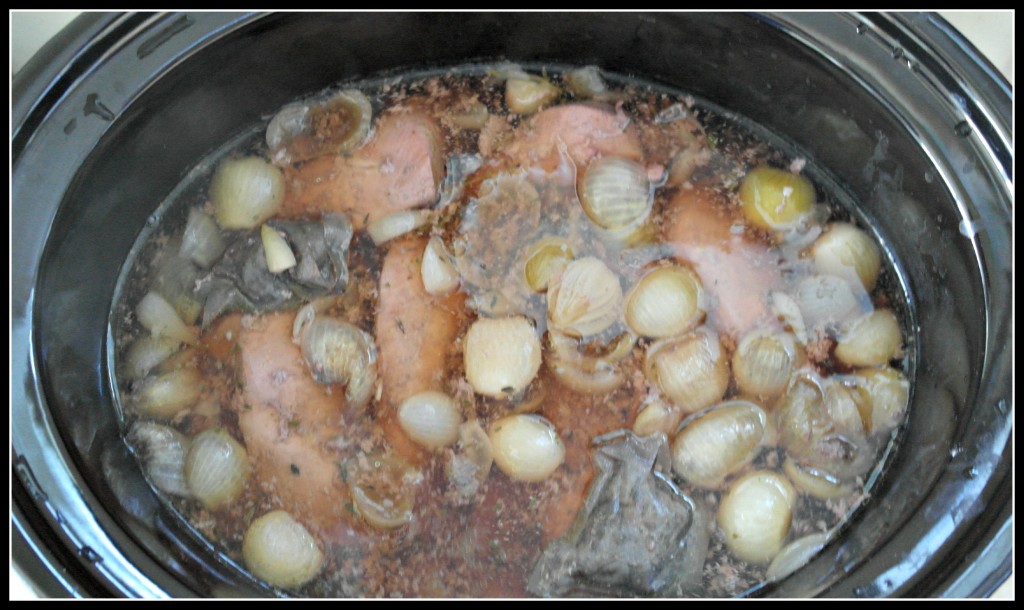 This was one of the easiest dishes. You simply put all the ingredients in the slow cooker on a high setting and return six and a half hours later to a delicious meal. It was completely hassle free.
Ingredients;
• 400g shallots, chopped
• Salt and freshly ground black pepper
• 200g bacon (I used bacon medallions which worked really well)
• Four whole chicken breasts (or thighs / drumsticks)
• One fresh bay leaf
• Few sprigs fresh thyme
• Two garlic cloves, crushed
• 300ml full-bodied red wine
• 100ml chicken stock (although I used vegetable)
• 150g button mushrooms
Method; put all ingredients in the slow cooker for six and half hours and serve. Serves four.
Mexican chicken stew
This recipe can made with minimal fuss. You can simply cover the chicken in fajita seasoning and then pour on shop-bought salsa. After cooking for several hours, you then pull the chicken apart with two forks.
I, however, wanted to make fresh salsa to ensure maximum nutritional value. It was easy, but fiddly and I didn't quite get the salsa right. With slow cooked food, all the moisture is retained. Although it tasted great, it was a bit too watery.
Ingredients;
• Four chicken breasts
• One packet fajita seasoning
• Several jars of salsa
Or make your own salsa;
• Two tins of chopped tomatoes
• One large onion, chopped
• Half a bunch of coriander, chopped
• Green chilli pepper, chopped
• Lime juice from two limes
• Teaspoon of ground cumin
• Two garlic cloves, chopped
Method; rub the chicken with half the taco seasoning. Place it in the slow cooker. Pour on the salsa. Stir in the remaining fajita seasoning. Cook for six hours. Pull the chicken apart with two forks. Cook for a further 30 mins. Serves four. Can be eaten on its own or served with rice.
Chicken jalfrezi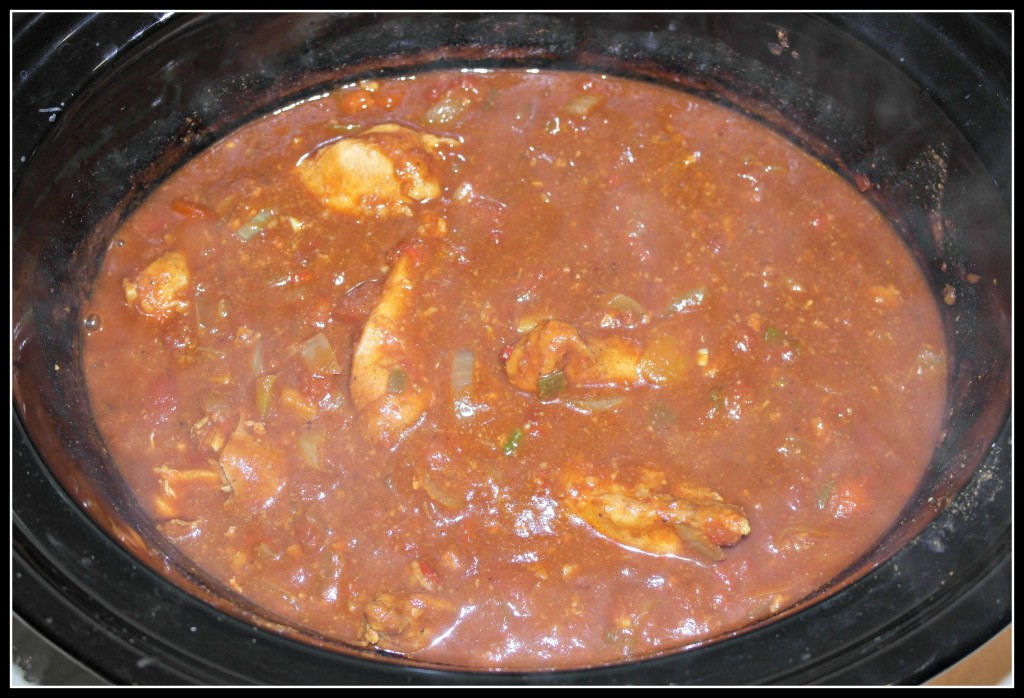 Another ridiculously easy recipe. Once the chicken has been seasoned, you put all the ingredients in the slow cooker, walk away, and come back nine hours later to a delightful curry. As with any curry, it involves a lot of chopping of ingredients. Even so, Mrs Adams declared this to be her favourite meal of the experiment.
Ingredients;
• Four chicken breast fillets or thighs
• Two tablespoons plain flour
• One large onion, roughly chopped
• Two cloves garlic, roughly chopped
• Two fresh green chillies, chopped
• One (400g) tin passata
• One teaspoon ground coriander
• One teaspoon ground cumin
• One or two red or green peppers, roughly chopped
• Half a teaspoon chilli powder
• Two whole fresh red chillies (optional)
• Two teaspoons garam masala
• Two half teaspoons curry powder
Method; cover the chicken in flour. Place in the slow cooker. Add the other ingredients. Cook for six and a half hours on a high setting or nine on a low setting. Serves four. Can be accompanied by rice on naan breads.
Chicken and lentil soup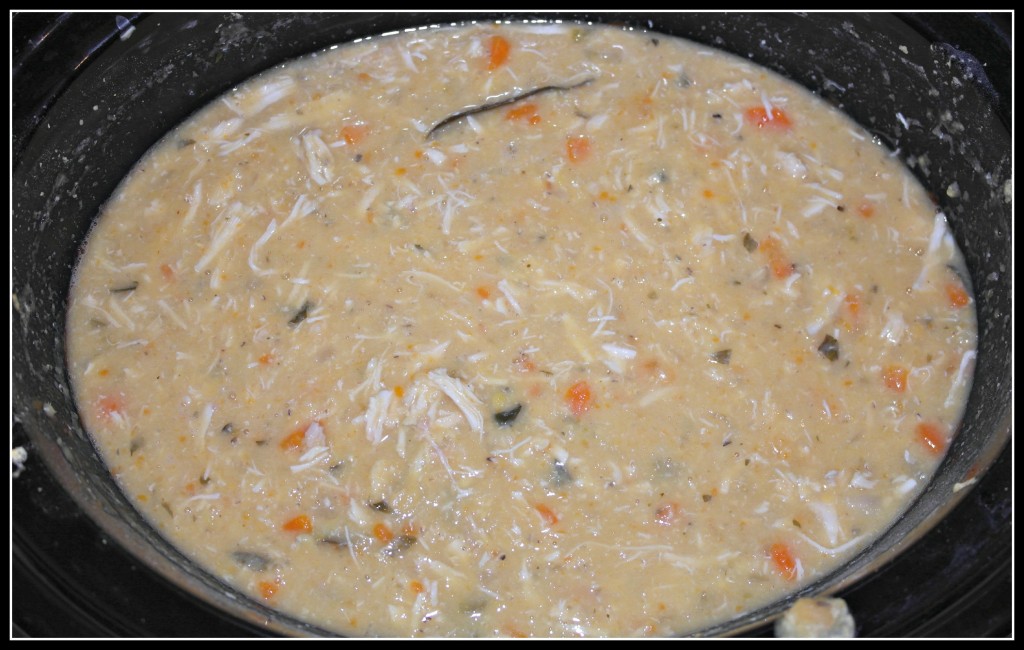 Another recipe where you simply chuck the ingredients in and leave it to cook. About half an hour before the end, you should, as with the Mexican chicken, pull the chicken apart using two forks. Just keep a close eye on the consistency. I found myself adding more water and stock as the lentils absorbed loads of the moisture.
Ingredients:
• Four chicken breasts or thighs
• 100ml of chicken or vegetable stock
• 400ml of water
• Large onion, diced
• Two large carrots, diced
• Several celery stalks, diced
• 400g lentils (I used red lentils)
• Half a teaspoon of oregano
• Bay leaf
Add all ingredients to the slow cooker for nine hours on a low setting. Half an hour before the end, pull the chicken apart with two forks. Keep an eye on the food as it cooks as I found it was necessary to top up with water and stock. Serve with crusty bread.
Beef stew
This came out superbly. The beef, which I knew to be very chewy as I'd cooked with the same batch previously, just melted off the fork. You can just throw everything in the slow cooker but I went off-piste and thickened up the sauce slightly before cooking. I did this to make sure it didn't come out too thin.
Ingredients;
• Two tbsp vegetable oil
• One onion, roughly chopped
• Two medium carrots, cut into 2.5cm pieces
• Several celery stalks, cut small
• Three tbsps tomato purée
• One kilogram braising steak, cut into 4cm (1½in) chunks
• Plain flour, to dust
• 200ml red wine
• 600ml beef stock
• Three fresh rosemary sprigs
Method; dust the beef with plain flour. Put everything into the slow cooker on a high setting for at least six and a half hours. Serve with mashed potatoes.
The experiment was a resounding success. My advice, if you haven't got a slow cooker, consider it. This item has become a part of the family, just like our juicer and I can't imagine the kitchen without it!
Disclosure; for review purposes I was provided with a VonShef Digital Slow Cooker. Thoughts and opinions my own. To see my disclosure policy, please follow this link.
Interested in this blog post? Well have a read of these...