I was up at half five yesterday morning boiling a white polo shirt in a think soup of coffee grounds. You're probably wondering why I was behaving in this eccentric fashion. The answer is very simple; it's that time of year when my eldest child needs a costume for her Christmas play and a brown top is an essential part of her ensemble.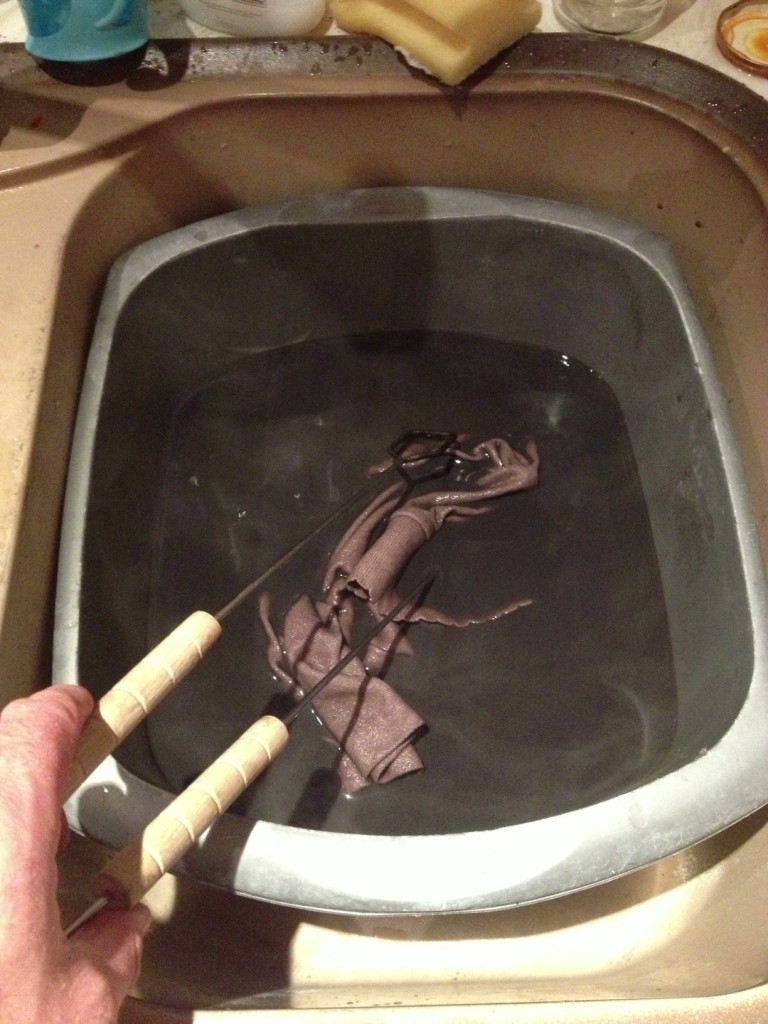 Unfortunately the home-made coffee dye didn't work. It washed straight out of the garment and left the house smelling like rancid coffee. You probably don't think coffee smells rancid. I didn't either but let me assure you that when boiled in large quantities it smells utterly foul.
I've already been asked why I didn't buy a brown top. The fact of the matter is, we were given less than a week to get the costume together and my attempts to buy one failed. I did, however, manage to get brown trousers. They're boys' trousers but, hey, who's going to notice?
This is the second time in two years I have resorted to desperate measures to get a costume together. Last year she was at nursery and a Christmas show was put together that featured singing, dancing and costumes (there was no mention of the nativity at all, much to the chagrin of several parents but c'est la vie).
Unfortunately we lost the note that was sent home telling us what our daughter needed to wear. At the eleventh hour I asked the nursery manager. The response was as follows; "Helen's group are all dressing as Father Christmas."
What followed was a mad dash around numerous stores until I found a Father Christmas outfit. It was absolutely ginormous but it was all I could find. I also figured she'd wear it more than once in the years to come.
I got it home and she put it on. To say it was ginormous was an understatement, it was absolutely massive and she looked ridiculous. The costume had to be altered and so my brother in law and I set about making adjustments to make the thing fit.
If you regularly read this blog, you'll know I've developed an obsession about sewing name tags and you may well be thinking we used a needle and thread to make these adjustments. Oh no, we are men and tackled this scenario in a stereotypically male way. We cut the costume to size and stuck the hems back together using instant grip adhesive, the type of thing a builder would use to stick skirting boards to a wall.
You may be surprised to hear this actually worked. It was, however, unfortunate that the nursery manager had made a mistake. Our daughter was the only Father Christmas on stage as the rest of her group were dressed as 'Christmas bears'.
Fast forward to this year and I couldn't find a brown top anywhere. I then had a flash on inspiration; buy a cheap, cotton tee-shirt and dye it!
The tee-shirt was an easy purchase but try as I might I couldn't find fabric dye anywhere so I improvised. You may be thinking this was the point when I threw the shirt into my "coffee soup" but you'd be wrong. My first attempt involved liquid brown shoe polish and hot water.
When I went to bed the shirt was brown and drying on a radiator. When I woke up the shirt was, for some reason, several shades lighter in colour. When my wife remarked that the shirt looked like it "had been p***** on by an angry horse" I knew I had to try again.
I made a second attempt at buying some fabric dye and this time it was successful. The shirt is now brown and my daughter's costume is complete.
The challenge of the nativity costume is clearly going to be an annual event. I hope that I get better at dealing with it.
Do you have a nativity costume story? Does it get any easier? Am I just inept? Please leave a comment below with your tale.
Interested in this blog post? Well have a read of these...